Moors Murderer Ian Brady 'no longer mentally ill', says barrister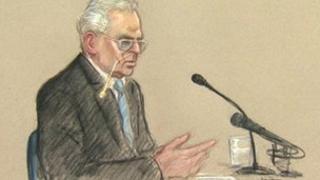 Moors Murderer Ian Brady is no longer mentally ill, his barrister has said on the final day of his tribunal.
Nathalie Lieven QC said Brady "had a period of severe mental illness in the 1980s", but this had resolved itself, meaning he could now return to prison from Ashworth hospital.
Hospital staff said Brady was mentally ill and should stay there.
The tribunal has finished hearing evidence and will make its decision "by the end of the week", its judge said.
Robert Atherton QC added that the full reasons for the ruling would be given at a later date.
Brady, now 75, and the late Myra Hindley tortured and murdered five children.
The pair buried some of their victims' bodies on Saddleworth Moor in the Peak District.
'Psychopathic country'
Summing up the case for Brady, Ms Lieven said he had a severe personality disorder but was not mentally ill and could be treated in prison rather than hospital.
"The evidence is that Brady had a period of severe mental illness in the 1980s, which resolved itself without medication," she said.
Ms Lieven said there was "no therapeutic benefit" in Brady staying at Ashworth, adding that he refuses medication and psychiatric treatment.
"Mr Brady is being treated as a special case," she added.
"Whether that's because Ashworth has lost perspective and has been drawn into a battle or because of misplaced maternalism, it is not clear."
Staff at Ashworth have argued that Brady remains a paranoid schizophrenic who should stay at the hospital.
Eleanor Grey QC, representing Ashworth, said Brady's evidence made it clear he holds "beliefs that are on the delusional end of the spectrum".
She added: "We say that the relative stability of the condition means that the very careful management he has received has served to prevent a deterioration and relapse."
He gave evidence at the tribunal, which sat at Ashworth high-security psychiatric hospital in Maghull, Merseyside, speaking for more than four hours on Tuesday.
He said he used "method acting" to trick doctors into classing him as insane so he could be transferred to the hospital, where he has been held since 1985.
Brady said he wanted to leave Ashworth because he hated it and "the regime has changed to a penal warehouse".
Brady also refused to answer a question from his own lawyer about whether he intended to take his own life if he was declared fit to return to prison.
The serial killer called Britain a "psychopathic country", referring to the wars in Iraq and Afghanistan, and described himself as a "comparable petty criminal".
When asked about his own crimes and what "value" he got out of killing, Brady responded: "Existential experience."
Brady's evidence was met with anger by the relatives of some of his victims.
Alan West, whose stepdaughter Lesley Ann Downey was killed aged just 10 by Brady and his partner in 1964, told ITV's Daybreak that Brady's description of the killings as "recreational" was sickening.
'Affront to moral justice'
"He should stay where he is because he'll get all the punishment he deserves rather than all the freedom of a prison," he said.
The brother of one of Brady's victims has called the mental health tribunal "a complete waste of taxpayers' money".
"To give him anything is an affront to moral justice," said Terry Kilbride, brother of John, who was snatched in November 1963 aged 12.
"He gave his victims nothing."
Mr Kilbride said the money should have gone towards finding the body of another victim, Keith Bennett.
David Kirwan, former solicitor of Keith Bennett's mother, who died last year, estimated the tribunal would cost £250,000 in total.
In 1966 Ian Brady was found guilty of three of murders and jailed for life. He and Hindley later confessed to another other two. Hindley died in prison in 2002, aged 60.