Stephen Lawrence: Church urges independent inquiry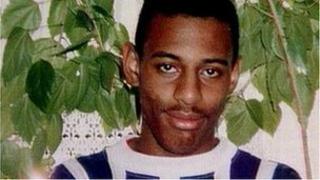 The Church of England has called for an independent investigation into claims police tried to smear the family of murdered teenager Stephen Lawrence.
The Committee for Minority Ethnic Anglican Concerns (CMEAC) said fears "there was a rottenness at the core of UK policing" needed to be tackled.
The home secretary has instructed two existing inquiries to examine the allegations of a former police officer.
But Stephen's family have demanded a judge-led public inquiry.
Home Secretary Theresa May and David Cameron are to meet to discuss the allegations when the prime minister returns from Kazakhstan, Downing Street has said.
It is understood the meeting will take place on Tuesday.
'Sickening reality'
The black teenager was 18 when he was stabbed to death by a gang of white youths in an unprovoked attack as he waited at a bus stop in south-east London in April 1993.
Former police officer Peter Francis told the Guardian that, working as part of the Metropolitan Police's Special Demonstration Squad (SDS), he posed undercover as an anti-racism campaigner after the murder and was asked to find "dirt" on the family.
But Bob Lambert, a former manager at the now-disbanded SDS, denied the allegations.
"At no time in my tenure as an SDS manager - which was from November 1993 until when I left in 1998, which was round about the time of the Stephen Lawrence inquiry - at no time was the Special Demonstration Squad concerned in smearing their family or their campaign," he told Channel 4 News on Monday.
CMEAC said in a statement action was needed to look into Mr Francis's allegations and whether officers had been involved in a "prolonged cover up", and a "conspiracy of silence".
"The belief that this was not just a few bad apples but a rottenness at the core of UK policing needs to be tested by a full, open and independent investigation, now," it said.
It added: "These new allegations do, sadly, resonate with the belief of many black and minority ethnic Anglicans that institutional racism within UK policing is not simply an entry in the history books, but a sickening reality today."
Prioritise claims
The Lawrence family and the Labour Party have also both called for a public inquiry in light of Mr Francis's claims.
Stephen's mother Doreen last week met Britain's most senior policeman, Metropolitan Police commissioner Sir Bernard Hogan-Howe, as well as Mrs May, to discuss the allegations concerning the SDS.
Mrs May said the claims could be examined by two existing inquiries - a police investigation into the activities of undercover officers and another led by Mark Ellison QC into allegations of corruption relating to the original investigation into Stephen's murder.
Sir Bernard has asked Mick Creedon, the officer from Derbyshire Police leading the inquiry into the SDS, to prioritise the Lawrence claims.