Soca defends response on lawbreaking private eyes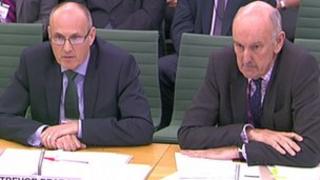 Top officials from the Serious and Organised Crime Agency have denied the organisation withheld information about law breaking by private investigators.
The Home Affairs Select Committee was investigating whether a 2008 Soca internal report detailing widespread offences had been suppressed.
Soca director general Trevor Pearce told MPs the agency had carried out investigations based on the report.
The Home Office says it is to regulate the private investigation industry.
An announcement is due shortly, a Home Office spokesman said.
MPs also heard from Soca chairman Sir Ian Andrews, who pointed out that the agency had been set up to tackle offences prioritised by the government - currently drugs, fraud, immigration crime, firearms and cyber crime.
He said offending by private investigators (PIs) was not a priority for Soca, whose duties are to be taken on by the National Crime Agency in October.
But the agency had led the way by highlighting lawbreaking when it looked into the ways PIs obtained private information, Mr Pearce said.
He told the MPs: "We commissioned this piece of work, we did this assessment, we've used it to affect policy, we've used it to provide a range of alerts and we've carried out investigations on the end of it.
"The characterisation that we have in any way held anything back or sat on our hands is frankly wrong."
Scams
Soca's original report was confidential and never published. Last year it provided a redacted copy to MPs, and placed this version on its website.
The confidential report - which the BBC has seen - said firms were illegally "blagging" or hacking information from public bodies, banks, and utility companies.
They were sometimes working for the media, but also for debt collectors, insurance companies and criminals.
Scams included using intercept phone calls, or planting a "trojan" program on a computer to obtain access to personal information, including emails.
The report detailed five cases, all investigated before 2007.
Mr Pearce said Soca had alerted banks and utility companies six times about potential attacks so they could protect themselves.
However, Mr Pearce said he was unable to tell MPs who had commissioned private investigators to seek personal information through illegal means.