Richard Dart's wife Ayan Hadi pleads guilty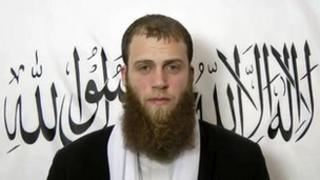 The wife of a convicted terrorist has pleaded guilty to failing to provide information that might have helped in his arrest and prosecution.
Ayan Hadi, 31, is the wife of Muslim convert Richard Dart. He was jailed in April along with two other men for preparing acts of terrorism.
The London-based trio discussed targeting the town of Royal Wootton Bassett as part of their plans.
Hadi, from Acton, west London, will be sentenced on 16 August.
She had been charged with having information that she knew or believed might be of assistance in securing Dart's apprehension, prosecution or conviction for an act of terrorism.
It covered the period between 1 July and 6 July 2011.
Mr Justice Sweeney, at the Old Bailey, told her: "All sentencing options remain firmly open."
Hadi, who the court heard has a "very young child", was granted conditional bail until her sentencing.
Dart, was jailed for six years, while Imran Mahmood received nine years and nine months, and Jahangir Alom was jailed for four years and six months.
At the time they were sentenced, the judge said they were all "committed fundamentalists" who would have been prepared to kill.
Dart and Alom travelled to Pakistan to try to get terrorist training, and took advice from Mahmood who had already visited the country.
Former BBC security guard Dart also discussed bomb making with Mahmood, and spoke of targeting the Wiltshire town of Royal Wootton Bassett - which became a focal point for the repatriation of UK soldiers from Afghanistan.
Dart, who changed his name to Salahuddin al-Britani, became involved in extremism after moving from his home town of Weymouth, Dorset, to east London and fraternising with radical Muslim Anjem Choudary.
His beliefs were brought into the spotlight as part of a BBC television documentary My Brother The Islamist, by his step-brother Robb Leech.