Police told to look for evidence of wrong-doing by undercover officers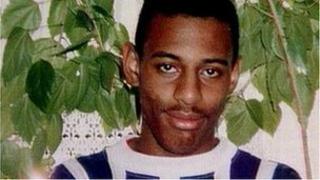 All police forces in England and Wales have been told to search for evidence of wrong-doing by undercover officers, the policing minister has said.
In a speech to the College of Policing, Damian Green is expected to explain that the move was prompted by claims officers tried to discredit the family of murdered teenager Stephen Lawrence.
He told the Sunday Telegraph: "We may discover some very unpalatable truths.
"But it is better to discover them now than leave them hidden."
In June, a former undercover police officer said he was ordered to infiltrate the Stephen Lawrence campaign in 1993 in a hunt for "disinformation" to help smear the Lawrence family.
It subsequently emerged that police had secretly recorded at least one meeting between Stephen Lawrence's friend, Duwayne Brooks, and Mr Brooks's lawyer, Jane Deighton.
'Hugely damaging'
"The allegations surrounding the Lawrence inquiry have been particularly shocking," Mr Green is planning to say in his speech on Monday.
"They are the subject of independent investigation already and the home secretary has asked all forces to examine their archives to ensure nothing is hidden there.
"This has been a time of bad headlines for the police. They are largely historic, but still hugely damaging.
"The job of cleaning out the stables is key - but even that is not enough. We need to re-build confidence by carrying on reform."
Speaking to the Telegraph, he added: "Nobody who cares about the police wants to have a constant stream of historic scandals coming out. That is why we are asking every chief constable to look at what may have happened in the past, and to do so as soon as possible."
Two existing enquiries are looking at the allegations against officers involved in the Lawrence case:
An examination into police corruption during the original investigation into the killing led by barrister Mark Ellison QC
Operation Herne, an investigation into undercover policing at the Met, led by the chief constable of Derbyshire Police, Mick Creedon, and partly overseen by police watchdog the Independent Police Complaints Commission
'Negative stories'
Home Secretary Theresa May told Sky news that the "vast majority" of police officers were working "with integrity and honesty".
"We've brought major reform into policing. There is still more to be done in relation to some of these issues which have been raised and questions that have been raised about integrity of policing," she added.
"The College of Policing will be producing a code of ethics and integrity for the police, for example. That's a new body that we've set up to look at standards in the police."
Also on Sky news, Sir Peter Fahy, the Chief Constable of Greater Manchester Police, said officers were suffering from low morale due to the "constant stream of negative stories at the moment".
"But you've got to bear in mind, for instance, some of my officers weren't even born at the time of Hillsborough and things like undercover policing are carried out by a tiny number of officers," he said.
"But of course, the impact of all the negative publicity does affect the whole force."