Mohammed Benares jailed over terror downloads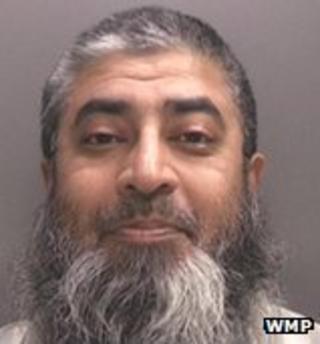 A man caught with bomb-making guides from an online al-Qaeda magazine has been jailed for four years.
Royal Mail worker Mohammed Benares, 45, from Birmingham, was found guilty in June of having written material likely to be useful to terrorists.
They included a how to make a bomb "in the kitchen of your mom" guide and a document called 39 Ways to Serve and Participate in Jihad.
He was arrested by West Midlands Counter Terrorism Unit in March 2012.
Benares had links to radical Islamist preachers Anjem Choudary and Abu Izzadeen. The court heard how the three exchanged text messages and attended a Muslims Against Crusades protest in central London on 11 September 2010.
'Idle curiosity'
Benares downloaded the instructions on how to make a bomb from an online magazine linked to al-Qaeda as well as a guide on how to handle an AK47 gun.
He had claimed the material was for research so he would be in a position to refute the arguments of extremists.
But sentencing him at Southwark Crown Court, judge Nicholas Lorraine-Smith told him the text messages and presence at a march to mark the 9/11 Twin Towers attack painted "a very different picture".
"They point to you being in fact a fellow traveller with those who had more extreme views and one who is security aware," the judge said.
"I do not accept that you had a merely fleeting interest in radical Islam or that you downloaded that material out of idle curiosity."
Benares, from the Saltley area of Birmingham, was convicted of three counts of possessing a record containing information of a kind likely to be useful to a person committing or preparing an act of terrorism following a week-long trial.
He had downloaded the material and stored it on three external hard drives.
His defence team accepted he had made a "misjudgement" and said he would pay for it "in a fundamental way".