Hot weather: No plans to impose a hosepipe ban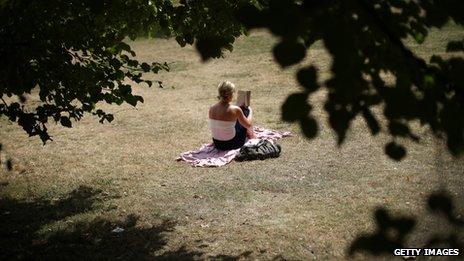 There are no plans to impose a hosepipe ban despite the heatwave affecting much of the UK, the BBC has been told.
Water UK, which represents all major water companies, said there was no need to panic as reservoir levels were where they should be.
Many parts of the country are looking parched after more than a week of hot weather, and the situation is set to continue for another week.
Meanwhile, commuters have been facing more disruption because of the weather.
Train services in and out of London's Waterloo station are back to normal after severe delays on Monday night caused by a rail which buckled in the heat.
A Network Rail spokesman said trackside temperatures had reached almost 50C this week and speed restrictions had been introduced at certain locations to prevent damage to the track.
During the heatwave, there have been reports of road surfaces melting and thousands of drivers caught up in traffic jams in sweltering conditions.
BBC weather forecaster Nick Miller said there was no end in sight for the hot weather but there were regional variations.
North-west Scotland will experience patchy light rain on Tuesday and Wednesday, but most of the UK will have temperatures well above 20C.
He said Tuesday's top temperature could well beat the current 2013 record of 31.4C (88.5F), measured at Heathrow on Saturday.
The Met Office's "yellow" alert - level two out of four - remains in place for the East Midlands, East of England, south-east England and London. It means there is a 60% chance of heatwave conditions in these areas over the next few days.
The trigger temperatures that will see local plans put into action to protect those susceptible to the heat vary depending on where you live.
In north-east England it is 28C, in Wales 30C and in London 32C. The night-time trigger temperatures vary from 15C to 18C.
The temperatures differ according to the "relative adaptation to heat" in each region.
While the sunshine is welcomed by most people, gardeners will be looking around at the dry and dusty landscape and wondering if a hosepipe ban is not far off.
But Neil Dhot, spokesman for UK water, said the wet winter had replenished the water stocks.
"People should carry on with their lives and continue to water their plants and fill their paddling pools, but as always we would ask people to be mindful about how they use their water."
The company said leaving a hosepipe or sprinkler running can use 220 gallons (1,000 litres) of water every hour, which is more water than a family of four would normally use in a day.
At Westminster, several MPs have backed an early day motion calling for a maximum temperature for workplaces.
They say no-one should have to work anywhere that is above 30C (86F) and those doing "strenuous work" should be allowed to down tools once their workplace reaches 27C (81F).
Meanwhile, more than 60 people have fallen ill with salmonella on Jersey after going to barbecues at the weekend.
Health officials on the island believe the outbreak of food poisoning is linked to a single source. Those affected had been at two private parties, catered for by the same company.
Temperature calculator
Phew! What a scorcher! But how hot is it really? Compare the temperature where you are with cities around the world, including some of the hottest and coldest inhabited places.
Temperatures around the world
In order to see this content you need to have Javascript enabled. Visit BBC Webwise for full instructions.