Newspaper review: Hospital probe impact assessed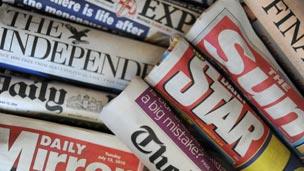 The government investigation into 14 NHS trusts in England with high death rates is widely explored in Wednesday's newspapers.
The paper says the inquiry rates "demolished Labour's claim that the NHS was safe in its hands".
It says Mr Hunt has been "caught red handed running down the NHS for party political gain".
It believes the idea of reducing the number of nuclear-armed submarines "deserves a serious public debate" and says the suggestion that such a move would risk national security is "absurd".
The paper's headline describes the sales as "blood money" and it says there are three existing contracts for Syria, even though the UK is sending equipment to rebels fighting the Assad regime.
The paper has positioned a camera outside St Mary's Hospital in London and, from this morning, the paper's website will show continuous live footage of all the comings and goings.
Her reply was: "Not terribly", to which she added, "everybody has babies".
BBC journalist Mishal Husain is widely pictured after getting a new job as a presenter on Radio 4's Today programme.
Several papers refer to her appearance on Celebrity Mastermind four years ago, when the question master - one John Humphrys, and also a Today presenter - asked her whether she was employed by the BBC only because she was good looking.
Related Internet Links
The BBC is not responsible for the content of external sites.