John Inverdale's Bartoli remark prompts Miller letter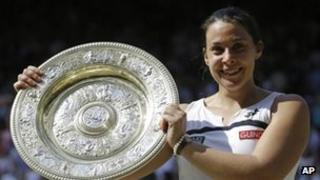 Culture Secretary Maria Miller has raised concerns with the BBC after John Inverdale's remark about the personal appearance of Wimbledon champion Marion Bartoli attracted 674 complaints.
She wrote to BBC director general Lord Hall for "an update on any further action that is likely to be taken".
Inverdale apologised for saying Bartoli was "never going to be a looker".
Lord Hall said the BBC had made it clear the presenter's comments were "unacceptable".
Replying to Mrs Miller in a letter, Mr Hall wrote: "I agree that the comments made by John (Inverdale) during the build-up to the women's final were totally unacceptable and fell well beneath the standards we expect of our presenters.
"John sincerely regrets that he made such an inappropriate statement and for the offence caused."
He said BBC executives had spoken to Inverdale and told him "an incident of this nature must never happen again".
Inverdale said the remarks, made on BBC Radio 5 live ahead of the Wimbledon women's final on 6 July, were "clumsy" and "ham-fisted" and had "understandably caused something of a furore".
Portrayal of women
Extracts from Mrs Miller's letter of 16 July have been published in the Daily Mail.
Mrs Miller, who is also minister for women and equalities, said she was writing to express her "concerns over the comments".
"I have particular regard for the portrayal of women in the media generally, and I have also identified increased coverage of women's sport as one of my key priorities," she said.
"It is therefore a matter of some concern to me that any comment on the looks and stature of a female athlete could be made in the context of one of the highlights of the UK's, and indeed the world's, sporting calendar.
"I am sure you will agree with me that it is vital that young women and girls in this country feel motivated both to take part in and to watch coverage of sport, and to know that they are included in the enjoyment of sport, and catered for by the media just as much as the male audience."
Mrs Miller goes on to acknowledge that Inverdale had apologised both on air and directly to Bartoli in a letter but asks "whether there may be positive steps that the BBC could take in future to ensure that the perception of and commentary on female athletes, and women's sport generally, are as positive and inclusive as possible".
The culture secretary has met broadcasters a number of times in the last year to encourage them to improve coverage of women's sports, her aides say.
'Amazonian athletes'
While chatting on air about Bartoli's technique as a player, Inverdale said: "I just wonder if her dad, because he has obviously been the most influential person in her life, did say to her when she was 12, 13, 14 maybe, 'Listen, you are never going to be, you know, a looker.
"'You are never going to be somebody like a Sharapova, you're never going to be 5ft 11, you're never going to be somebody with long legs, so you have to compensate for that.
"'You are going to have to be the most dogged, determined fighter that anyone has ever seen on the tennis court if you are going to make it,' and she kind of is."
After complaints on online social networks, the BBC issued a statement in which it said the remarks had been "insensitive and for that we apologise".
The following day, at the beginning of the coverage of the men's Wimbledon final, Inverdale made his apology and added that Bartoli was a "fantastic example to all young people that it's attitude and will and determination, together obviously with talent, that in the end gets you to the top".
He said the point he was trying to make was "the public perception of tennis players is that they're all six-feet-tall Amazonian athletes".
The director general said there would be "unprecedented coverage" of women's sport across the BBC this summer.
In his letter to Mrs Miller he wrote: "The BBC has a proud record of supporting women's sport, as I am sure you will have recognised from the current coverage of Euro 2013.
"We are building on the fantastic success of the Olympics, with a team including many women broadcasters, through extensive day-in, day-out coverage across our TV, radio and online services.
"We have also appointed an editorial lead specifically for women's sport, which has helped to ensure significantly increased coverage."