British drug case trio 'pardoned in Dubai'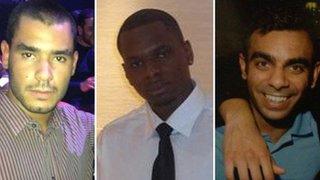 Three British men jailed for four years each for drug offences in Dubai earlier this year have been pardoned, legal rights charity Reprieve has said.
Londoners Suneet Jeerh, Grant Cameron and Karl Williams were found guilty of possessing synthetic cannabis in April.
They claimed they were tortured by police following their arrest while on holiday in the Gulf state last July.
Mr Cameron's mother said he was already back in London. The other two men were expected to return to the UK soon.
The three men, who denied charges, have been pardoned under a United Arab Emirates amnesty for the holy month of Ramadan.
The UK Foreign Office said that, while it would not comment on specific cases, it was "aware that the 2013 amnesty list has been announced in the United Arab Emirates and that the local authorities have begun the process of releasing those included".
"This will continue to come as welcome news for those included and their families," a spokesperson said.
Prime Minister David Cameron raised the case with UAE President Sheikh Khalifa bin Zayed during his state visit to the UK earlier this year.
The men, all in their 20s, were arrested after police said they found a quantity of a drug known as "spice" in their car.
They say they were subjected to torture by police - both in the desert, where they were initially taken after their arrest, and subsequently in hotel rooms - and that it included electric shocks and beatings.
Police in Dubai have denied any wrongdoing and say an internal investigation into the torture allegations found no evidence to support the claims.
Grant Cameron's mother Tracy said in a statement: "After a year of waiting, we are deeply relieved and overjoyed to have Grant back home with us after his terrible ordeal.
"We hope that his friends Karl and Suneet will soon also be safely back in Britain."
Reprieve's Kate Higham said Mr Cameron's release was "welcome but long overdue".
"No-one should have to go through what he experienced and we are glad that he is safely back home," she added.
"We hope the same will soon be true of his friends Karl and Suneet."
'Electric shocks'
Speaking to BBC News in April, ahead of the trial verdict, Mrs Cameron said her son and his friends had been treated "appallingly" and were put through "a pretty terrifying ordeal" after they were arrested.
"They were taken back to their hotel room, they were beaten in their hotel room, it does appear they were separated from each other and each taken to a different room," she said.
"Karl was laid out on the bed, his trousers were stripped down and electric shocks were administered to his testicles while he was blindfolded.
"I believe all boys had guns held to their head - they were told they were going to die.
"Grant sustained electric shocks to his torso and I believe Suneet had shocks administered to him to the back of his head and his back."
She said all the men were pressured into signing statements written in Arabic which they did not understand.