UK teenager feared drowned in France named as Kieran Knight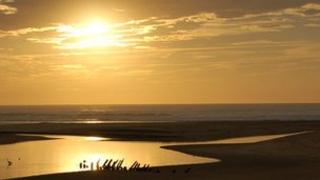 A British teenager who went missing off the south-west coast of France on Wednesday and is feared to have drowned has been named as Kieran Knight.
The 16-year-old was "caught by a strong undercurrent and was unable to make his way back to shore", a Foreign Office statement said.
The family needed privacy "to come to terms with this tragic event concerning their much-loved son", it added.
The Foreign Office is providing consular assistance to the family.
French officials had said earlier this week that rescue workers were alerted to the boy's disappearance near the town of Messanges, in the Landes region, on Wednesday afternoon.
A patrol boat and three helicopters were deployed to search for the boy, but without success.
"Despite extensive ongoing searches by the French authorities, Kieran has not been located," continued the Foreign Office statement, issued on behalf of the Knight family.