Sea Cadets award Spanish shipyard £4.8 million contract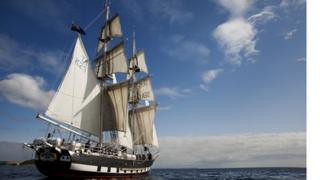 Spanish shipyard Astilleros Gondan has been awarded a £4.8m contract to build the Sea Cadets new training ship.
Sea Cadets charity MSSC said it worked hard to keep the contract in the UK but that it proved too expensive to do so.
A spokeswoman said 55% of the vessel's content would be UK sourced. It will replace the 40-year-old TS Royalist.
The Sea Cadets Corps is a national youth organisation which is sponsored by the Royal Navy, and has more than 30,000 cadets and volunteers.
'Technically advanced'
MSSC have been fundraising for two years to raise the money for the new ship.
It will replace the current vessel, the TS Royalist, which made her maiden voyage in 1971. It was launched by Princess Anne and has taken more than 30,000 cadets to sea.
In recent years she has become increasingly expensive to maintain, leading to the decision to commission a new vessel.
In a statement, MSSC chief executive Martin Coles said: "Astilleros Gondan's proposal delivers a technically advanced proposition with a great use of space and modern facilities providing a real step forward from TS Royalist in terms of overall design and sailing experience.
"With 55% of equipment sourced from the UK they have struck a good balance between home grown and cost effectiveness.
The charity said that at 32m long, the new ship would be "faster and easier to handle" than the current vessel. Her lighter weight and lower centre of gravity would also be more economical, making her "ideal for offering young people offshore sailing".
MSSC, which has raised £3.85 million of a £4.8 million fundraising target, said the majority of donations for the new vessel came from corporate supporters and individuals. The largest single donations were each for more than £250,000.
The Sea Cadets themselves raised £150, 000 by taking part in various activities, including a national Row the World in 80 hours challenge.
This challenge saw cadets and staff row more than 24,900 miles using indoor rowers and completing 100 miles on water from Oxford to Tower Bridge along the Thames.
The new vessel will be used to take thousands of young cadets on their first offshore voyage, an experience which the MSSC says is "the pinnacle of Sea Cadet experience".
Sam Piper, 18, who sailed from Gosport to Cherbourg said: "It gave me fantastic leadership opportunities and I was put in charge of one of the mast and the team responsible for it. Sailing through the night for France was incredibly exciting as we had to keep night watch."