Caroline Criado-Perez Twitter abuse case leads to arrest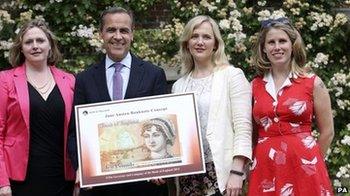 A 21-year-old man has been arrested after a feminist campaigner was deluged on Twitter with abuse and threats of rape, Scotland Yard has confirmed.
He was detained in the Manchester area on suspicion of harassment offences.
Caroline Criado-Perez faced abuse after successfully campaigning for a woman's face to appear on UK banknotes.
Twitter says it plans to introduce a "report abuse" button on its website, but Labour has called its response to the latest case "inadequate".
Ms Criado-Perez, who had appeared in the media to campaign for women to feature on banknotes, said the abusive tweets began the day it was announced that author Jane Austen would appear on the newly designed £10 note.
She reported them to the police after receiving "about 50 abusive tweets an hour for about 12 hours" and said she had "stumbled into a nest of men who co-ordinate attacks on women".
'Malicious communications'
Via her Twitter page on Sunday evening she said she was at a police station making a statement and that there were "many more threats to report".
The Metropolitan Police said an allegation of "malicious communications" had been made to officers in Camden, north London, on Thursday.
An online petition set-up in response to the abuse called on Twitter to take "a zero tolerance policy" by introducing a report button and reviewing its terms and conditions on abusive behaviour "to reflect an awareness of the complexity of violence against women, and the multiple oppressions women face".
The petition has received tens of thousands of signatures.
Twitter said in a statement on Saturday that iPhone users could already report individual abusive tweets "and we plan to bring this functionality to other platforms, including Android and the web".
A spokesman added that the site encouraged users to report anyone breaking Twitter rules on conduct by using a report form.
But Labour said on Sunday that it had written to Twitter complaining that it had been "weak" to tell Ms Criado-Perez to take her complaints to the police.
"Of course it is right to report such abuse to the police," shadow home secretary Yvette Cooper wrote.
"But social media platforms also have a responsibility for the platform they give users."
Ms Cooper said Twitter should carry out a full review of its abuse and complaints policies.
But Guardian newspaper columnist Tanya Gold said social networking sites could not be asked "to police our debate", adding: "It is just as essential that in seeking to enhance our freedoms, we do not in fact diminish them."
She warned against "cosmetic or over-specific change" - such as a report button - arguing that "misogynists on Twitter should be shamed, rather than criminalised".
"It grew up rapidly as a lawless, bubbling, anarchic Wild West... Now, however, the marshals and sheriffs are advancing, carefully trying to impose at least roughly the same standards of behaviour as we demand in the solid world."
Guidelines published by the Director of Public Prosecutions, Keir Starmer, in June said there should be a "high threshold for prosecution in cases involving communications which may be considered grossly offensive, indecent, obscene or false".
Related Internet Links
The BBC is not responsible for the content of external sites.