Phone hacking: 34 people questioned under police caution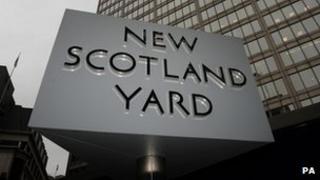 It has emerged that 34 people have been interviewed under caution by the Metropolitan Police as part of their phone hacking-related investigations.
This is in addition to the 120 people arrested in the three strands of the investigation - Operation Weeting, Operation Elveden and Operation Tuleta.
Earlier on Wednesday, prosecutors told three newspaper staff that they faced no further action.
The trio were among those interviewed under caution but not arrested.
Two are men aged 36 and 43, who were questioned in October, and the third is a 42-year-old woman who was interviewed in January last year.
The Crown Prosecution Service (CPS) decided that in one case there was insufficient evidence, and in the other two cases that there was enough evidence for a realistic prospect of conviction but that it would not be in the public interest to do so.
A fourth person, a 50-year-old male journalist, has had his bail extended to mid-August. He was originally arrested in January 2012 as part of Operation Elveden, Scotland Yard's inquiry into alleged illegal payments to public officials.
Gregor McGill, from the CPS, said: "After carefully reviewing all the evidence provided it was determined that no further action should be taken in relation to three of the individuals. The fourth suspect remains on police bail."