UK summons Spanish ambassador for Gibraltar assurances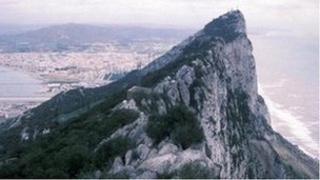 Spain's ambassador has been summoned to the Foreign Office to give assurances there would be no long delays at the border with Gibraltar this weekend.
Ambassador Federico Trillo was told of "serious concerns" about checks on vehicles that led to delays of up to seven hours last weekend.
Gibraltar linked the delays to Spain's anger over creation of an artificial reef in the waters off its coast.
But Spain said it had been "fulfilling its duties... to monitor its borders".
On Friday, Foreign Office Minister Hugo Swire said: "From July 26 to 28, and again on July 30, there were long delays at the Gibraltar-Spain border of up to seven hours, as a result of wholly disproportionate checks introduced by the Spanish authorities on vehicles both leaving and entering Gibraltar.
"Disruption to border flows has a direct impact on the prosperity and well-being of communities on both sides of the border.
"The UK government's position is that these delays are unjustified, unacceptable and have no place at a border between EU partners."
Gibraltar's government had accused Spain of "torturing" vulnerable passengers by causing the "unnecessary" hold-ups to thousands of people.
There has been recent tension between Spain and Gibraltar over fishing rights, and Spain has lodged a complaint with the UK over the creation of the artificial reef which it says stops "Spanish fishermen fishing in a manner that is contrary to our law".
Spain disputes UK sovereignty over Gibraltar, which has been a British Overseas Territory since 1713.