Yemen warning as temporary closure of UK embassy begins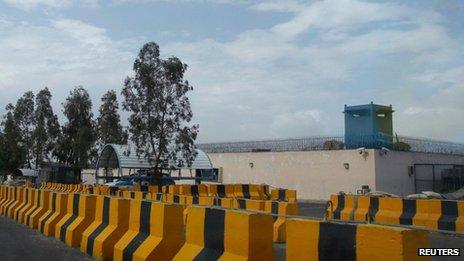 The Foreign Office is continuing to "strongly urge" Britons to leave Yemen as a two-day closure of its embassy begins amid a terrorism warning.
It also advised against travel to Yemen due to "increased security concerns".
The closure of the Sanaa embassy, which had already been operating only with essential staff, was said to be a "precautionary measure" until Tuesday.
The French and German embassies are also shut as are US diplomatic missions in the Middle East and North Africa.
US officials met in Washington on Saturday to review the threat of a terrorist attack that led to the Sunday closure of 21 embassies and consulates and a global travel warning to Americans.
It came after the US reportedly intercepted al-Qaeda messages, which, it has been claimed, were between senior figures talking about a plot against an embassy.
Meanwhile, Interpol issued a separate global security alert, citing jail breaks linked to al-Qaeda in nine countries.
The international policing organisation said "hundreds of terrorists" had been freed during breakouts in countries including Iraq, Libya and Pakistan in the past month.
Several hundred Britons are thought to live in Yemen, with most working for the embassy, charities, UN organisations and oil companies.
It says there is "a high threat from terrorism throughout Yemen" and "a very high threat of kidnap from armed tribes, criminals and terrorists".
A Foreign Office spokesman would not say if the UK embassy closure was due to a specific threat, but a number of British embassies in the Middle East have been warned about increased risks.
A Foreign Office spokesman said: "We keep travel advice and the security of our staff and missions under constant review.
"Our travel advice advises particular vigilance during Ramadan, when tensions could be heightened. We are particularly concerned about the security situation in the final days of Ramadan and into Eid."
Security analyst Peter Bergen said militant group al-Qaeda had previously showed "strong interest in launching attacks" on the 27th day of Ramadan on Sunday.
The former US Ambassador to Iraq, Christopher Hill, said the closure of the embassies "suggests some very credible information about a real threat".
"This is not just a couple of people talking to each other, this is credible information, they would not do this otherwise," he said.
"But on the other hand it appears that they don't know where the threat is, so they are erring on the side of caution and shutting down the US embassy presence in an entire region. "
Unlike the US, the UK is keeping its embassies in Saudi Arabia, Oman, Qatar, Bahrain, Kuwait, United Arab Emirates and Iraq open, but it has advised staff to "exercise extra vigilance".
A spokesman said on Sunday it was "business as usual".
Related Internet Links
The BBC is not responsible for the content of external sites.