Gurkhas lobby MoD over Serco plans to cut 100 jobs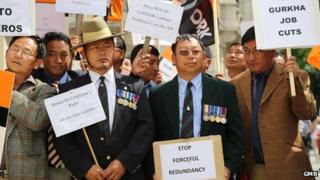 Retired members of the Gurkha regiment who now work for Serco on Army training exercises have protested against plans to make most of them redundant.
The veterans are employed as civilians at barracks in the UK and abroad.
Their union the GMB said Serco had gone back on promises made to the men.
But the outsourcing firm, which won the £55m training contract last year, said they were no longer needed because of the government's recent decision to extend tours of duty in Afghanistan.
Zero hours
The GMB said about 150 men gathered at the Ministry of Defence to deliver a petition to Defence Secretary Phillip Hammond.
The union is balloting the veterans on whether to take industrial action against Serco's plans.
Organiser Ross Murdoch said: "These GMB members are ex-soldiers who have fought for this country and are now passing on their valuable skills, knowledge and expertise to current soldiers prior to their deployment overseas."
He added that Serco would "almost certainly" try to re-employ the men on so-called zero hours contracts - with no guarantees of work and vastly reduced workplace rights.
The union said the veterans had previously been promised work until the end of the year if they accepted a reduction in their hours and that Serco had backtracked.
But the company said it was pressing ahead with plans to make 95 of the 110 men redundant on 6 September.
Training changes
Director of front-line services Karen Smart said the company recently made an improved redundancy offer but that it had been rejected by the employees.
"We are committed to resolving this dispute and we will continue to work with our employees and the GMB to find an agreement," Ms Smart said.
"Increased tour lengths of UK troops in Afghanistan mean that the need to train troops has been reduced significantly."
The MoD said the change would not effect the amount and quality of the training soldiers receive and that who Serco recruit to assist in training exercises was a matter for them.