Barrister suspended from sex cases after court comments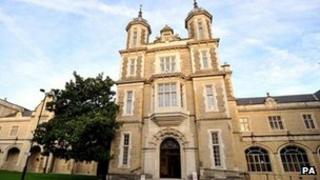 A barrister who described a 13-year-old victim of sex abuse as "predatory" in court has been suspended from sexual offence cases pending a review.
Robert Colover has been criticised for his remarks, in which he also described the girl as "sexually experienced".
The Crown Prosecution Service said he would not be instructed in sex cases while it considered his situation.
Neil Wilson, 41, admitted abusing the girl at his home in Romford, London, and was given a suspended jail term.
'Real concern'
The Crown Prosecution Service (CPS) described Mr Colover's language as "inappropriate".
The CPS said the Director of Public Prosecutions, Keir Starmer, would carry out a review and decide what action to take.
A CPS spokesman said: "We are now considering the involvement of this barrister in sexual offence prosecutions and have advised his chambers that we will not instruct him in any ongoing or future cases involving sexual offences in the meantime."
The CPS added: "The word predatory in this context should not have been used and is of real concern to the CPS.
"It is not consistent with the work that we have undertaken alongside the judiciary and others in the past year to improve attitudes towards victims of abuse.
"We expect all of our prosecutors, including self-employed barristers who act on our behalf, to follow our guidance in these very difficult cases."
The Metropolitan Police said the word "predatory" did not did not appear in any police material concerning the victim.
A Met spokesman said: "The Metropolitan Police Service is aware of reports in the media surrounding terminology used by the prosecution barrister in the case of Neil Wilson.
"This is not terminology the Met Police Service would use to describe a victim in such a case, and was not used by the officer who provided testimony in this case."
'Absolutely right'
Prime Minister David Cameron said he supported the position of the CPS.
He said: "I think the CPS are absolutely right to say that what one of their lawyers said was not appropriate. It isn't appropriate. We need a criminal justice system that stands up properly for victims.
"The victims should always be at the centre of our thinking and I'm pleased the CPS have made that statement and I'm also pleased that the attorney general has said that he is personally going to look into this case."
Labour has written to the Bar Standards Board to ask it to investigate whether Mr Colover had breached its code of conduct.
Shadow attorney general Emily Thornberry said: "It is appalling that, after the scandals of Jimmy Savile and Rochdale, these awful Lolita prejudices are still being served up in court, and by the prosecution of all people."
BBC legal correspondent Clive Coleman said a prosecutor must draw to a court's attention any matter that assists the defendant - and it is not at all unusual.
But, our correspondent added, the prosecutor needed to scrutinise the potentially mitigating material carefully and the language in which it is expressed.
Sentencing hearing
The police were alerted to the actions of Wilson, who now lives in York, after his victim told a friend. Images of child sex abuse were also found on Wilson's computer.
Wilson later admitted two counts of making extreme pornographic images and one count of sexual activity with a child.
Mr Colover, who was employed by the CPS at Wilson's sentencing hearing at London's Snaresbrook Crown Court on Monday, said: "The girl is predatory in all her actions and she is sexually experienced."
The judge, Nigel Peters, said that when deciding Wilson's punishment he had taken into account the prosecution's comments that the girl looked and behaved older than she was.
Wilson's eight-month jail term was suspended for two years. The Attorney General's Office said the sentence had been drawn to its attention as "possibly unduly lenient".
Details of the case came as the head of the judiciary in England and Wales said a select pool of judges with specialist training would be created to handle complex child abuse cases, amid concerns at the way some child witnesses were treated in court by lawyers.
Javed Khan, chief executive of independent charity Victim Support, said: "Victims of sexual abuse should be praised for their bravery in coming forward not censured and have their credibility called into question, least of all by the prosecution."
However, Carl Gardner, a former government legal adviser, warned that most people commenting on the case did not know the full facts.
Paul Mendelle, a criminal barrister and former chairman of the Criminal Bar Association, said the behaviour of the victim is not usually a mitigating factor.
An online petition on Change.org calling for the CPS to investigate the language used by Mr Colover has been signed by 30,000 people.