Newspaper review: Miliband headline woes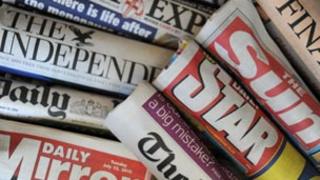 There are more dispiriting headlines for Ed Miliband as he returns to work after a two-week holiday.
The Daily Telegraph says the Labour leader is facing calls to sack key members of his shadow cabinet in a reshuffle, which is expected in the next few weeks.
It quotes senior party sources as saying that the front bench is seen as too closely linked with the era of Tony Blair and Gordon Brown.
The paper says shadow health secretary Andy Burnham and shadow chancellor Ed Balls are both regarded by colleagues as damaging Labour's chances of winning the next general election.
'Shout louder'
And the Guardian piles on the pressure too.
In an editorial it says Mr Burnham "had a point" in criticism which he made of the Labour leadership over the weekend.
The paper agrees that Mr Miliband needs to "shout louder" and present a serious economic alternative to the coalition.
The Independent highlights "the real cost of the benefits squeeze".
The paper quotes a study by the Centre for Economic and Social Inclusion, which suggests that most families on benefits will receive £1,615 a year less than they would have done under the old welfare system.
The researchers also found that, of the 1.2 million households in which no-one works, only one in eight was likely to be able to find work near home.
Cycle praise
The Times applauds the millions of pounds the government is committing to cycling initiatives.
It says many of the measures being funded reflect the aims of its own Cities Fit For Cycling campaign.
Writing in the paper, Transport Secretary Patrick McLoughlin says cycling is "exploding in popularity" and that the more people get on their bikes, the more it will become part of our everyday life.
But in its editorial, the Times says more needs to be done - it says cycling is "healthy, empowering and fun" and that "Britain can do better" in improving its cycling infrastructure.
The Independent says it has seen documents that reveal Britain has given equipment worth around £80m to opposition forces in Syria.
It predicts that, with the holy month of Ramadan over, fighting will intensify but says there remain concerns that Western weapons will find their way into the hands of jihadists.
'Sense of arrival'
The Sun takes issue with a new sign at one of Britain's best-known holiday destinations
It says Bournemouth Borough Council has spent £76,000 on a 6m-long 3D "welcome to Bournemouth" message on a bridge above a main road leading into the town.
And it is not impressed with the official justification for the sign.
A spokesman for the council is quoted as saying it's designed "to promote a sense of arrival for visitors".