Afghan interpreters petition delivered to Cameron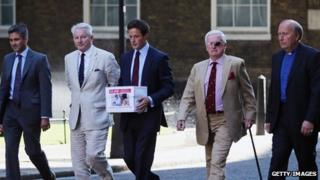 Campaigners have petitioned Downing Street to call for Afghan interpreters who worked with UK forces to be given the right to settle in Britain.
Sir Winston Churchill's great-grandson Alexander Perkins helped deliver the 60,000-signature petition.
Some interpreters have been offered resettlement in the UK, but campaigners want all staff treated equally.
If not, they face "almost certain death", they said. The MoD said it had a range of measures for ex-staff.
Delivering the petition - organised through the change.org website - Mr Perkins said the UK owes the interpreters a "huge debt" and they will be "sent to their deaths" if they are not offered asylum.
"I'm not saying they're all going to be killed, but there's a fair chance that a large number of these guys are going to be persecuted by the Taliban, and some of them probably will end up being killed," the 27-year-old great-grandson of the WWII prime minister added.
Writing on the website he says Winston Churchill "would have been shocked by the way our government is treating men who risked their lives to help British forces".
Mr Perkins served two tours in Afghanistan as a captain in the Scots Guards.
He led a group of former Army majors as they delivered the petition to Number 10.
The UK is offering resettlement to about half of the 1,200 Afghan staff who were working directly for the UK on 19 December 2012, when Prime Minister David Cameron announced a "drawdown" of British forces in Afghanistan.
Some of these staff were interpreters, but any who left before that date - except those who stopped working because of combat injuries - will not qualify.
The exact number who have worked as interpreters is unknown, but the MoD said about 550 of the 1,100 local staff currently working for the British government in Afghanistan were interpreters, and "many thousands" of Afghans had worked for the UK in some capacity since the 2001 invasion.
'Embarrassed'
Major James Driscoll, another of the former officers behind the resettlement campaign, said interpreters had taken "great risks to both to themselves and their families" to help British troops.
"By denying entry into the UK the government is condemning them and their families to persecution and almost certain death," he said.
A legal challenge for several of the interpreters was submitted to the High Court on 6 August, Maj Driscoll added.
Colonel Tim Collins, who commanded British troops in Iraq, said he expected ministers would listen to the campaigners.
The campaigners are most concerned about interpreters who did "particularly dangerous" work in Helmand from 2006 onwards.
One of them, Baryalai Shams, was a translator from 2008-09 who fled after his father and brother were killed by the Taliban.
He reached Germany on a false passport but was arrested and spent two years in immigration detention, before being granted asylum two weeks ago.
Maj Driscoll said it was "disappointing" Mr Shams had been forced to seek protection in another European country after serving Britain.
Protection measures
The UK's offer, which applies only to staff who had been working for at least 12 months up to 19 December 2012, is five years of training in Afghanistan with financial support, or a redundancy package worth 18 months' salary.
A "third option" - resettlement in the UK - will be offered only to those who worked in "particularly dangerous and challenging roles".
An MoD spokesman said this "very generous" redundancy scheme did not replace its pre-existing intimidation policy, which applies to anyone who worked for British forces at any time.
The spokesman said this policy "offers a separate range of protection and handling measures depending on the seriousness of the threat, including in extreme cases the option of relocation to the UK".
But BBC defence correspondent Jonathan Beale said only one Afghan had been allowed to move to the UK under this scheme.
In a statement issued in June, Defence Secretary Philip Hammond said he must consider "the potential impact on the UK and on Afghanistan of resettling large numbers of people".