Barbara Cartland complete works to be published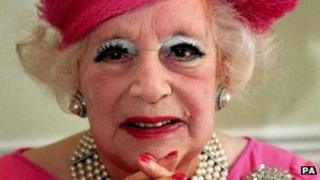 All 883 of Barbara Cartland's novels, including 57 previously unseen works, are to be published as a result of a new distribution agreement.
The collection includes 160 manuscripts the prolific romance novelist left behind when she died 13 years ago.
Branded The Pink Collection, 103 of those works have already been made available via the author's website.
Publisher M-Y Books has worked with her son Ian McCorquodale to "expand the reach" of the collection.
It will be accompanied by The Eternal Collection, made up of dozens of existing titles, and a Spanish language collection.
All of the novels will be made available as e-books, with paperback editions printed on-demand.
Jonathan Miller, managing director of M-Y Books, said: "Barbara Cartland is a unique author known worldwide for her pure romance writing and novels that are perfect for family reading."
Dame Barbara published an unprecedented 723 books in her lifetime. Her Who's Who entry claimed she had achieved sales of 750 million, although some disputed the figure.
Her books were translated into 38 languages, and titles included A Dangerous Disguise and The Enchanted Moment.
The author, who was step-grandmother of Diana, Princess of Wales, lived at Camfield Place country estate, near Hatfield, Hertfordshire, which was previously the summer residence of another successful author, Beatrix Potter.
She died, aged 98, a year after completing her final novel.