Abu Qatada's family leave UK for Jordan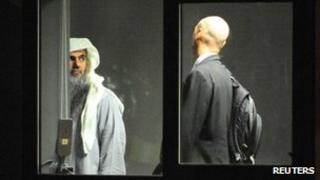 The family of deported radical cleric Abu Qatada have left the UK, the Home Office has said.
It said his wife and five children had dropped an application for leave to remain in the country.
They have left north-west London and are expected to join Abu Qatada in Jordan, where he was sent in July.
Abu Qatada, 53, will stand trial for terror offences in Jordan after fighting an eight-year battle against deportation from the UK.
That fight through various courts ended after the UK and Jordan signed a treaty agreeing that evidence obtained through torture would not be used against him in his trial.
A Home Office spokesman said: "Abu Qatada's wife and five children have now left the UK. The family has formally agreed to drop an outstanding application for indefinite leave to remain."
Demonstrations
The Palestinian-Jordanian was first arrested in the UK in 2001 over the alleged offences in Jordan and had been fighting deportation since 2005.
When his battle finally came to an end with his removal to a high-security jail near Jordanian capital Amman in July, Home Secretary Theresa May said the UK government had been "vindicated".
She said at the time that Abu Qatada's wife and children would have to decide what they wanted their future to be before the government got involved.
Earlier this year a court had granted an injunction preventing protesters from demonstrating outside the family home in London.
A High Court judge issued the anti-harassment order in February after hearing that the younger children had been left scared and suffering "extreme distress".
The court heard the demonstrations - organised by a host of nationalist groups - lasted up to six hours and effectively left the family "prisoners in their own home".
They are now expected to join the radical cleric in Amman, where he is awaiting trial after being convicted originally in absentia of plots against Westerners in Jordan in 1999 and 2000.