Terrorist Richard Dart's wife gets suspended jail term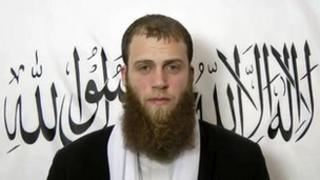 The wife of a convicted terrorist has been given a one-year suspended jail sentence for failing to give police information about her husband.
Ayan Hadi, 31, is married to Muslim convert Richard Dart, who was jailed in April for preparing terrorist acts.
Hadi, from Acton, west London, failed to provide information that might have helped police arrest and prosecute him.
The judge said justice could be "tempered with some mercy" in cases of "vulnerable" defendants.
Passing sentence at the Old Bailey, Mr Justice Sweeney spared Hadi, who has a sixth-month-old child by Dart, an immediate prison term.
The court heard how Dart, who was jailed for six years after pleading guilty to terrorism charges, married Hadi in September 2011 after they met on the internet.
Weeks later Dart and another man, Jahanghir Alom, a former Metropolitan Police community support officer, attempted to travel to Pakistan to receive terrorist training.
Dart had told Hadi of his plans, which he said could include being "martyred" in a terrorism operation.
The court heard how Dart advised her that, if the police contacted her, she should say he had gone to Pakistan for a wedding.
Prosecuting, Mark Topping said: "She was aware of Richard Dart's plan to travel to Pakistan and Afghanistan for a terrorist purpose... she was under an obligation to report what she knew."
Mr Topping said that once Dart was in Pakistan the couple would make contact on mainstream websites posing as strangers so that Dart could relay news to her.
Police discovered fragments of text on Dart's laptop that revealed the pair had also used the computer to have "silent conversations" whilst they were in the same room to avoid being overheard on possible surveillance bugs.
'Win-win'
They would open a word processor document and take it in turns to type, before deleting the text, mistakenly assuming none of it would be stored on the machine.
However, investigators were able to plough through 2,000 pages of computer code to decipher fragments of what was said.
In one conversation Dart wrote that if he didn't make it back from Pakistan, "inshallah, I will be waiting for you in Jannah (paradise)".
Hadi had replied: "It's a win-win either way. I will have patience, a beautiful patience."
Dart, Hadi, Alom and another man, Imran Mahmood, were arrested in July last year.
Like Dart, Mahmood and Alom pleaded guilty to preparing acts of terrorism. Mahmood was jailed for nine years and nine months, while Alom got four years and six months.
In interviews, Hadi told police: "My religion is completely against violence."
In his sentencing remarks on Friday, Mr Justice Sweeney said: "You come from a family which did not have, and neither did you have, jihadist sympathies."
Earlier, Hadi's barrister Mozammel Hossain had said his client should be spared jail since she was "the mother of a weak, ill child".
Hadi's sentence was suspended for two years. The court was told that since her arrest she had "demonstrated genuine remorse" for her behaviour.