Anonymous £350m fund stuck in legal limbo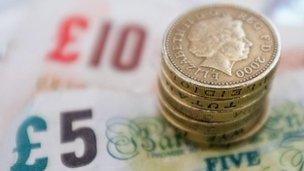 An anonymous donation to the country made 85 years ago and now worth £350m is stuck in legal limbo because of a stipulation made by the donor.
The National Fund was created in 1928 to be held in trust until the UK was close to paying off all its debts.
The fund was to be used to pay off the "entire national debt" - but that currently stands at £1.2tn, more than 3,000 times the £350m in the fund.
Barclays, which manages the fund, wants permission to give the money away.
The fund is now one of the UK's largest charities by net assets, and Barclays has been trying for four years to get permission to make it available as charitable grants or hand it to the Treasury.
Any change relating to how the money could be used would have to be approved by a court.
"We've been working ever since we became the trustee to change the original objects, which say the funds can be used only to pay off the entire national debt," a Barclays spokesman said.
"We are working with the Charity Commission and the attorney general's office to look at how best to take the fund forward."
A spokesman for the attorney general's office said: "We are looking at a number of options for the future of the fund, consistent with its object of extinguishing or reducing the national debt."
According to the Financial Times, the National Fund has grown 700-fold - from £500,000 when it was created to its current level.
The anonymous donor stipulated trustees could use part of the fund to pay debts if national circumstances merited it but neither the Second World War nor financial crises had prompted a payout to date, the newspaper reported.
This week the government used a £520,000 donation to "pay down the national debt".
Former nurse Joan Edwards left the money to "whichever government is in office" to use "as they may think fit", and the Conservatives and Liberal Democrats initially divided it between the parties.
But after criticism of that decision, Prime Minister David Cameron said it would go to the Treasury to "meet the spirit" of what Miss Edwards had intended.
Related Internet Links
The BBC is not responsible for the content of external sites.