Newspaper review: Egypt crisis considered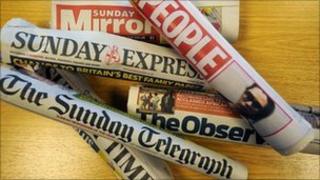 The Observer and the Independent on Sunday continue to lead with the crisis in Egypt, using a photograph of two policemen in balaclavas, their backs to each other in the al-Fath mosque, Cairo, with their rifles raised upwards.
The Observer says the special forces officers paused during their assault on hundreds of Muslim Brotherhood supporters to pose for a Reuters photographer.
The Independent's Alastair Beach, who was inside the mosque, reports that hundreds of panicking Islamists were "cooped up" with decomposing corpses.
According to a dispatch in the Sunday Telegraph, thugs - suspected of being drafted in by the government - used sticks and metal rods to attack men with beards and women in Islamic headscarves.
'Ruthless' reshuffle
The Sunday People and the Sun on Sunday say Labour leader Ed Miliband is "poised" to shake up his shadow cabinet.
Both say Stephen Twigg, Liam Byrne and Hilary Benn "face the sack".
The Sun reports that there will be promotions for women including Rachel Reeves and Stella Creasy.
Anne McElvoy, writing in the Mail on Sunday, advises Mr Miliband to make his reshuffle a "ruthless one", saying "your team needs to know who's in charge and what you stand for".
'Undemocratic' secondments
The Sunday Times says three members of Prince Charles's staff have been "secretly" working full-time in Whitehall departments linked to his interests - including in a rural policy team at the Department for the Environment.
The paper says secondments with business and charities are usually transparent but the government and Clarence House are reluctant to disclose details, including what tasks have been carried out.
A spokesman for Prince Charles tells the Sunday Times the arrangements were ad-hoc ones made on the basis of professional development.
One minister, who is not named, says the secondments are "undemocratic".
Adverse impacts
"A stake in the heart of middle England" is the Mail's headline.
The paper says it has obtained "devastating evidence" which reveals that the construction of the high-speed rail link, HS2, would affect more than half-a-million unsuspecting people along a 40-mile wide corridor - "scarring towns, villages and beauty spots beyond the proposed route".
An HS2 spokesman says the project has sought to minimise disruption and will consider how any adverse impacts can be further reduced.
'Heavy burden'
The Sunday Times asks what was Jeremy Paxman trying to say when he appeared on Newsnight last week with the "hair-raising sight" of a "Paxo beard"?
Had the wisdom of philosophers descended upon him?
Was he infused with a new rakishness?
In an article for The Sunday Telegraph, Paxman says they "promise freedom" and "spare you having to look in the mirror at the ravages of time".
He writes that he did not see the media debate coming and he should have paused to reflect that "man doesn't shave" is a gift for columnists.
He concludes that the beard has turned out to be "quite a heavy burden".