Jury age limit to be raised to 75 in England and Wales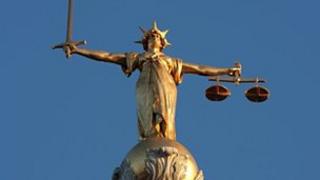 The upper age limit for jurors in England and Wales is to be raised from 70 to 75, the government has announced.
The move is part of Ministry of Justice plans to make the system more inclusive and to reflect modern society.
Currently only people aged 18 to 70 are eligible to sit as jurors.
Those aged 70 to 75 who are summoned as jurors would be expected to serve, though there is discretion to excuse people if they can show a good reason why they should not.
Some 178,000 people in England and Wales take part in jury service each year, but the government believes the current age limit does not take account of increases in life expectancy over the past 25 years.
Criminal Justice Minister Damian Green said the right to be tried by peers "is, and remains, a cornerstone of the British justice system laid down in the Magna Carta almost 800 years ago".
"This is about harnessing the knowledge and life experiences of a group of people who can offer significant benefits to the court process," he added.
Groups representing the elderly have welcomed the move.
Paul Green, director of Saga, which specialises in products and services for the over-50s, said: "Older people have a great deal of life experience and many remain astute, savvy and mentally agile well into later life and will be a valued addition to any jury.
"This is a common sense reform and should be applauded."
In Scotland, a ban on over-65s serving as jurors was lifted in 2011.
Those aged 71 and over who do not want - or feel able - to serve on a jury have the right to be excused.
The upper age limit in Northern Ireland remains at 70, while those aged 65-69 can choose not to serve.
But, following a public consultation, plans are afoot to abolish the upper age limit and increase the age at which people can choose not to serve to 70.
'Days lost'
The age range for jurors in England and Wales was last amended by the Criminal Justice Act 1988, which raised the upper limit from 65 to 70.
However, between 1988 and 2004, those in the 65-70 age group who were called could be automatically excused.
From 2004, those in that age range could only be excused if they provided a good reason.
Under the change announced on Tuesday, those aged between 70 and 75 who are summoned will be treated like all other jurors - they will be expected to serve.
But they could be excused for reasons such as a medical condition which prevents them serving, or significant caring responsibilities.
The change to the age limit will require primary legislation which will be brought forward early next year.
Some experts, including University College London Jury Project director Prof Cheryl Thomas, believe the announcement is long overdue.
"Virtually every other common law jurisdiction that has a jury system currently has no upper age limit at all for jury service," she said.
"This new policy change will bring England and Wales up to speed with the rest of the common law systems."
In 2010, the Council of Circuit Judges warned that allowing people aged over 70 to serve on juries could lead to "substantial disruption" to criminal trials.
"There would, inevitably, be an increase in 'days lost' as a result of illness or incapacity," it said.
"Proceedings might be hampered by poor hearing, poor vision or physical disability."
The retirement age for judges was reduced from 75 to 70 some 20 years ago.