Newspaper review: Miliband 'under pressure'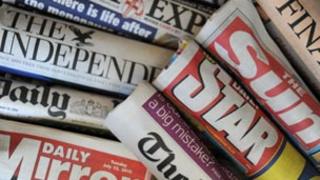 Wednesday's papers discuss what they describe as "growing pressure" on Labour leader Ed Miliband over the party's ability to win public support.
The Guardian reports that former senior figures Alistair Darling and David Blunkett have joined a "chorus" of Labour politicians saying the party should be doing better.
The Daily Mail argues that if the Labour leader is determined to ignore the experience of party "oldies" to try to distance himself from New Labour, he is already failing by having Andy Burnham and Ed Balls in the shadow cabinet.
The Independent appears to think Mr Blunkett damned Ed Miliband with faint praise when he likened him to the former Labour prime minister, Clement Attlee, describing him as a fantastic leader but not the most vibrant public performer.
The Daily Express reckons Mr Miliband would do better to stand down to save time. When a leader gets as many brickbats from his own side as his rivals, it says, you know he is in trouble.
Bonus delay
Criminals are being employed in two prisons to phone members of the public and ask them about their valuables, according to the Sun.
The paper quotes a source saying inmates, who are employed to carry out market research for insurance companies, also get people to confirm their names and postcodes.
A spokesman for the Centre for Crime Prevention says this is "incredibly naive". But the Ministry of Justice tells the paper prisoners underwent risk assessments and insists calls were supervised.
"Deplorable" is how one labour market expert, quoted by the Guardian, describes the decision by many top earners to delay their bonuses until April to take advantage of a cut in top-rate tax.
The Daily Mirror accuses the government of championing fat cats over ordinary workers and says bankers "lapping up" their bonuses adds insult to the injury.
The Independent's economics columnist, Ben Chu, says the latest figures that show bonuses paid to women are 50% less than their male counterparts challenge the idea that high bonuses are about keeping talent.
He says that on matters of pay the City is more of a cosy club than a competitive marketplace. The gravy train is out of control, he argues.
Fat ducks
Both broadsheets and tabloids are fascinated by the premiere in London of a documentary about the boy band One Direction.
"One Direction; one reaction; 10,000 screams" is how the Daily Telegraph describes the scene in Leicester Square in London, where fans were in a "frenzy" - according to the Daily Express.
The Independent takes another view, reporting that the crowds of waiting fans were "awfully polite".
And the Guardian ponders why this group of five lads is so globally successful.
It says social media has helped "directioners" - as their diehard fans are called - to communicate not only with each other but with their idols.
Finally, experts at a country park in Peterborough have said they can no longer "duck" the issue - white bread is making birds fat.
The Daily Mail reports that wardens at Ferry Meadows have banned families from feeding bread to the resident ducks, claiming some have become so big they are struggling to walk.