David Miranda detention: Q&A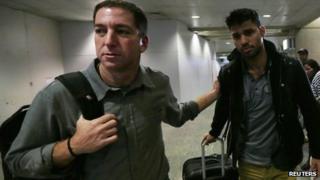 A guide to the case of David Miranda - the partner of a former Guardian journalist covering the Edward Snowdon case - who was detained at Heathrow for nine hours under the Terrorism Act, sparking controversy.
Who is David Miranda?
Mr Miranda is the partner of former Guardian journalist Glenn Greenwald who has covered stories based on leaks by US whistle-blower Edward Snowden. The 28-year-old Brazilian citizen was detained for nine hours at Heathrow Airport under anti-terror laws on 18 August. He had been on his way from Berlin to Rio de Janeiro, where he lives with Mr Greenwald. Mr Miranda's lawyers said he had his mobile phone, laptop, DVDs and other items seized.
What is the connection to Edward Snowden?
Edward Snowden, a former contractor at the US National Security Agency (NSA), leaked details of extensive internet and phone surveillance by American intelligence services. According to the Guardian, he passed "thousands of files" to Mr Greenwald, who, since his initial Guardian report on 6 June, has written a slew of stories about surveillance by US and UK authorities, including that the UK's electronic surveillance agency, GCHQ, accessed information about UK citizens from the NSA's monitoring programme, Prism. GCHQ has insisted it is "scrupulous" in complying with the law.
What was Mr Miranda doing in Berlin?
All we know at this stage is that Mr Miranda stayed with US film-maker Laura Poitras, who has also been working on the Snowden files with Mr Greenwald and the Guardian, according to the newspaper. The Guardian said he was not an employee of the newspaper but it had paid for his flights and he was carrying "journalistic materials".
So why was he detained?
Mr Greenwald said the authorities had "spent the entire day asking about the reporting I was doing and other Guardian journalists were doing on the NSA stories", while Mr Miranda said he was questioned about his "whole life" by "six agents". Mr Greenwald accused the authorities of "bullying" and said it was "clearly intended to send a message of intimidation" to those working on the NSA revelations. The Guardian, several senior UK politicians and the independent reviewer of terrorism legislation, David Anderson QC, have demanded a full explanation. Brazil has also sought answers from the UK.
What has the UK government said of his detention?
Home Secretary Theresa May said that it was right for the police to act if they believed that someone had "highly sensitive stolen information". No 10 also said it had been "kept abreast" of the detention.
What has the US government said?
A US government spokesman said the administration was given a "heads up" about the detention but denied that it had been carried out at its request.
What laws were used to hold Mr Miranda?
Mr Miranda was detained under Schedule 7 of the Terrorism Act 2000. This allows police to hold someone for up to nine hours for questioning about whether they have been involved with acts of terrorism. Anyone detained must "give the examining officer any information in his possession which the officer requests". Any property seized must be returned after seven days.
Why has this proved controversial?
It is very unusual for someone to be held for the full nine hours. According to the Home Office's own data, more than 97% of examinations under Schedule 7 last less than an hour. The former Lord Chancellor, Lord Falconer, who was involved in bringing in the act, said the powers were intended to be used only against people who are or might be terrorists. Mr Miranda challenged the legality of his detention.
What did the High Court rule?
The High Court ruled Mr Miranda's detention was lawful, saying it was a "proportionate measure in the circumstances". Lord Justice Laws, sitting with Mr Justice Ouseley and Mr Justice Openshaw, ruled there was "compelling evidence" that stopping Mr Miranda was "imperative in the interests of national security". In his ruling, Lord Justice Laws said: "The claimant was not a journalist; the stolen GCHQ intelligence material he was carrying was not 'journalistic material', or if it was, only in the weakest sense."
What have the police said?
Metropolitan Police Deputy Assistant Commissioner Helen Ball said the judgement was a "clear vindication of the officers' conduct, demonstrating that they acted lawfully and in good faith throughout". Home Secretary Theresa May said the judgement "overwhelmingly supports the wholly proportionate action taken by the police in this case to protect national security".
What happens now?
The High Court has refused Mr Miranda permission to take the case to the Court of Appeal but he can petition the court directly and ask them to hear the case. "I will appeal this ruling, and keep appealing until the end," Mr Miranda said.
What else do I need to know about the story?
It has emerged that earlier this year, Prime Minister David Cameron ordered Britain's top civil servant, Cabinet Secretary Jeremy Heywood, to contact the Guardian about material it had obtained from Mr Snowden. The discussions resulted in the newspaper destroying a number of computer hard drives in July, under the supervision of intelligence experts from GCHQ. This only came to light when Guardian editor Alan Rusbridger wrote about it in his blog.
What about Edward Snowden?
Mr Snowden, 30, is wanted in the US on charges of theft of government property, unauthorised communication of national defence information and wilful communication of classified communications intelligence. He is in Russia where he has been granted temporary asylum. Top-secret documents leaked by Mr Snowden have continued to form the basis of stories in the British and US press about unauthorised electronic surveillance.