Army colonel David Parkinson killed in Kenya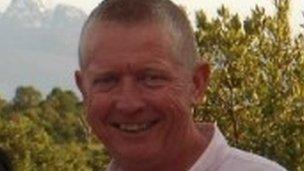 Police in Kenya are investigating the murder of a former British army colonel who was killed by an armed gang at his home near Nanyuki, Laikipia.
David Parkinson and his wife were attacked after the gang of suspected robbers, armed with machetes and a gun, smashed their way into the house in the early hours of Sunday, police said.
Mrs Parkinson escaped after hiding in a strong room.
Mr Parkinson, an ex-commander of a base in the area, managed a cattle ranch.
Senior investigating officer Marius Tum, of Laikipia East police, said about five gang members had gained entry to the house by smashing a glass door just before 01:00 local time on Sunday and found the couple sleeping.
During the ensuing confrontation, Mr Parkinson's hand was cut severely and he was fatally wounded, Mr Tum added.
He said the attackers had tied Mrs Parkinson up with rope.
"But she managed to hide in one of the strong rooms to which they could not gain access," Mr Tum said.
"David remained lying on the floor. When she was sure they had left, she came out of the strong room to discover that David had died."
Police said the gang had escaped with a small haul including Mrs Parkinson's telephone, a small amount of cash from her purse, a laptop computer and a silver statuette.
A former lieutenant colonel in the Parachute Regiment, Mr Parkinson was awarded an OBE in 1998.
He left the British army a decade ago to focus on conservation and community work in Kenya.
He was previously deputy director of Lewa Wildlife Conservancy, which made headlines after Prince William proposed to Kate Middleton there in October 2010.
A spokesman for the prince said he was saddened to learn of the death of Mr Parkinson, whom he had met at the reserve.
More recently, Mr Parkinson managed the Lolldaiga Hills wildlife and livestock ranch which also hosts British troops on training exercises.
Related Internet Links
The BBC is not responsible for the content of external sites.