Longer sentence sought in 'predatory' sex victim case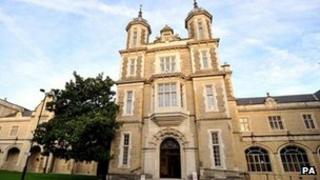 The attorney general is seeking to increase the sentence of a sex offender whose 13-year-old victim was described as "predatory".
Neil Wilson received a 12-month jail sentence suspended for two years after admitting sexual activity with a girl.
Attorney general Dominic Grieve is asking the Court of Appeal to decide whether the sentence is unduly lenient.
The trial's prosecuting barrister described the victim as "predatory" and "sexually experienced".
Wilson was sentenced at Snaresbrook Crown Court in east London for engaging in sexual activity with a girl, making indecent images of a child and possession of extreme images of abuse.
During the hearing earlier in August, Judge Nigel Peters QC gave Wilson an eight-month suspended sentence - but later corrected it to 12 months for legal reasons.
He said the sentence had to take into account prosecutor Robert Colover's comments that the girl looked and behaved older than she was.
In a statement, the attorney general's office said Mr Grieve had "carefully reviewed" the case and decided to refer the sentence to the Court of Appeal.
"The case will in due course be heard by three Court of Appeal judges who will decide whether or not the sentence is unduly lenient and whether they should increase it," said the statement.
The case is expected to go before the senior judges in the next two months and the maximum possible sentence is 14 years.
Referral powers
The attorney general cannot himself increase sentences - but he has the power to go to the Court of Appeal and ask judges to increase them if he thinks that an offender should have been dealt with more severely.
During the case, the court heard that Wilson, 41, who lives in York, abused the girl over two weeks after initially meeting her while she had been playing truant in the Romford area of east London.
Putting the prosecution case, Mr Colover told the judge: "The girl is predatory in all her actions and she is sexually experienced.
"There was sexual activity but it was not of Mr Wilson's doing, you might say it was forced upon him, despite being older and stronger than her."
The judge told Wilson that while there was no legal defence to a sex offence involving a girl of her age, he had to accept that the victim had been "seriously egging you on", leading to his decision to suspend the sentence.
The Office for Judicial Complaints is looking into the judge's sentencing remarks. The Crown Prosecution Service separately said Mr Colover's language had been "inappropriate" and that it would not instruct him in any sexual offences cases while it considered his situation.