Newspaper review: Papers show MPs' Syria concerns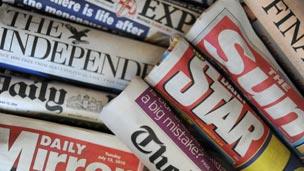 The paper claims Mr Cameron was "unprepared" for the call, in which the Labour leader said he wanted more evidence from UN inspectors before supporting missile strikes.
The Prime Minister was, apparently, "infuriated".
And it seems Labour are not the only ones opposing the prime minister.
He tells the paper: "An attack will be interpreted around the Middle East in ways we can't predict."
On the opposite page, Simon Heffer says "Westminster is abuzz with rumours that two ministers in particular - the Defence Secretary, Philip Hammond, and the Home Secretary, Theresa May - have grave doubts about missile strikes".
"And we are their Special PC, working weekends, with our little notebook reporting back to Washington if we see any bother... Yet the majority of Britons ask - why?"
The man is badly burned, and the paper says he is an alleged victim of a napalm bomb set off by Syrian troops.
The total in the second quarter of the year was 3.5m - about 17% of all households.
And finally - just what is happening to masculinity in the UK?
The figures, based on sample audiences, were 1.9m to 1.7m. The gap among female viewers, the paper notes, was much larger.
Related Internet Links
The BBC is not responsible for the content of external sites.