Newspaper review: Papers show MPs' Syria concerns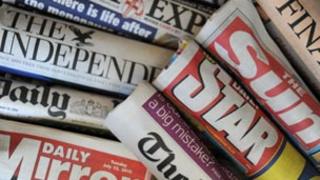 David Cameron's plans for military action in Syria were the subject of a bad-tempered conversation with Ed Miliband on Wednesday afternoon, according to the Times.
The paper claims Mr Cameron was "unprepared" for the call, in which the Labour leader said he wanted more evidence from UN inspectors before supporting missile strikes.
The Prime Minister was, apparently, "infuriated".
And it seems Labour are not the only ones opposing the prime minister.
According to the Guardian, 70 Conservative MPs are "yet to be persuaded" by the case for military action.
The Daily Mail says the former home secretary, David Davis, is "at the head of a growing Tory rebellion".
He tells the paper: "An attack will be interpreted around the Middle East in ways we can't predict."
On the opposite page, Simon Heffer says "Westminster is abuzz with rumours that two ministers in particular - the Defence Secretary, Philip Hammond, and the Home Secretary, Theresa May - have grave doubts about missile strikes".
"The US is the policeman of the world," says Brian Reade in the Daily Mirror.
"And we are their Special PC, working weekends, with our little notebook reporting back to Washington if we see any bother... Yet the majority of Britons ask - why?"
In the Daily Express, Leo McKinstry puts it more bluntly: "What on earth has the unfolding nightmare of Syria got to do with Britain?"
The Sun has a picture of a man lying on a stretcher, which it says was taken near Syria's border with Turkey.
The man is badly burned, and the paper says he is an alleged victim of a napalm bomb set off by Syrian troops.
Welfare figures
The Guardian reports on official data showing the proportion of households where no-one works has fallen to its lowest level since records began in 1996.
The total in the second quarter of the year was 3.5m - about 17% of all households.
The Express says this figure shows "welfare dependency is raging our of control".
And finally - just what is happening to masculinity in the UK?
The Telegraph reports that more men watched the Great British Bake Off on Tuesday night than Arsenal against Fenerbahce in the Champions League.
The figures, based on sample audiences, were 1.9m to 1.7m. The gap among female viewers, the paper notes, was much larger.