Newspaper review: Syria vote dominates headlines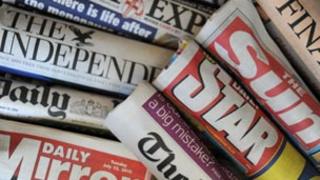 "Cameron humiliated as MPs veto Syria strike" is the front page headline for the Times.
A government motion calling for action against Syria, possibly including military strikes, was defeated on Thursday - and the paper says the result was a blow for both David Cameron and Barack Obama, who wants support for US intervention.
The Independent calls the result of the vote a "huge surprise" which leaves Mr Cameron's Syria strategy "in disarray".
The paper says Labour leader Ed Miliband toughened his stance against the plan after his chief whip warned there would be a "huge rebellion" among Labour MPs if he supported military action.
According to the Sun, Labour and the Conservatives exchanged "vicious insults" over Mr Miliband's refusal to support the government.
It quotes the prime minister's press secretary accusing the Labour leader of "flipping and flopping" over the issue.
The Guardian says the Tories have accused the Labour leader of giving "succour" to the Assad regime.
And the Daily Mail says the dispute is the "angriest foreign policy row between the main parties since Suez in 1956".
The paper says Nick Clegg gave his "tortured backing" as he tried to steer his Liberal Democrats away from their traditional anti-war stance - though nine Lib Dems voted against the government.
The Daily Telegraph says the motion was defeated despite an impassioned appeal from Mr Cameron before the vote, in which he called on MPs to "do the right thing".
Labour sources have reportedly told the paper that government accusations that the party has helped the Assad regime are "frankly insulting".
Many papers say memories of the Iraq war made MPs reluctant to back the motion, though the Financial Times says Mr Cameron urged MPs not to let the "spectre of previous mistakes paralyse our ability to stand up for what is right".
'Guilty by association'
Several papers report that a former lover of the North Korean dictator, Kim Jong Un, has been executed.
The Daily Mail says she was reportedly among a dozen singers, musicians and dancers killed by machine gun last month after being accused of making pornographic films and possessing Bibles.
According to the Mirror, their families were made to watch the public executions - and then sent to prison camps for being "guilty by association".
The Daily Express front page says a "new diet" could cut people's risk of developing diabetes by more than a quarter.
It says research suggests eating "just a few portions" of fresh fruit a week reduces the risk of type 2 diabetes, with blueberries being the most effective, followed by grapes or raisins, prunes, then apples and pears.