PM vows to stand up for Gibraltar in dispute with Spain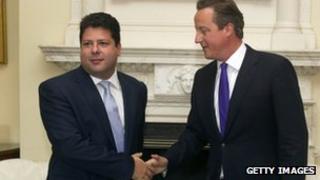 Britain will always stand up for Gibraltar and the interests of its people, David Cameron has said.
The prime minister said it was something that mattered to us "very deeply", as he held a meeting to discuss the border dispute with Spain.
After talks at Downing Street, the British territory's Chief Minister Fabian Picardo said Gibraltar knew it had "a friend in David Cameron".
Mr Picardo also met Foreign Secretary William Hague on Wednesday.
A Number 10 spokesman said Mr Cameron's meeting reaffirmed the "strong and historic bonds" between the UK and Gibraltar.
"They discussed the unacceptable delays at the Spanish/Gibraltar border and agreed that these are damaging to the people and economies of Gibraltar and Spain," he said,
"They agreed that efforts should remain concentrated on finding a diplomatic solution."
'Missiles thrown'
In recent weeks, Spanish authorities have increased checks at the Gibraltar border, leading to lengthy delays.
It came after Gibraltar dropped 74 concrete blocks into the sea into disputed waters just off its coast.
Gibraltar claimed it would create an artificial reef and encourage sea life to flourish, but the Spanish said the blocks would disrupt waters used by its fishing boats.
In recent days, there have been claims of violence against Spanish police and Guardia Civil officers on the borders, as vehicles were delayed for several hours.
The Royal Gibraltar Police are investigating claims that "a small number of missiles" were thrown at Guardia Civil officers carrying out checks on border traffic on Wednesday.
Earlier, Spanish police unions held a protest at the border, claiming a Guardia Civil officer was injured when he was dragged along by a Gibraltar-registered car that had refused to stop.
Protesters said the act was "cowardly and perverse".