Portugal 'fake abduction': Women released without charge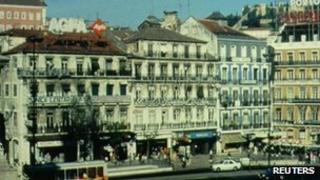 Two British women arrested in Lisbon for allegedly organising their own fake abduction as part of a 40th birthday celebration have been released without charge, police have said.
Police were called after two men grabbed the women and appeared to force them into a white van in Praca dos Restauradores on Sunday afternoon.
The women, both from Guernsey, were among a group of 11 friends on holiday.
Four Portuguese citizens also arrested will be tried for kidnapping.
The UK Foreign Office said it had been "aware of the detention of two British nationals in Portugal on 1 September" and was providing consular assistance.
Police said the two women, aged 40 and 41, had been on holiday in Portugal - together with nine friends - as part of a 40th birthday celebration and had contacted a Portuguese events company to organise a fake kidnapping.
After they had been bundled into the van, it had been driven off by a third person while the company's manager had filmed the simulation, police said.
The women and the four Portuguese citizens - who all work for the events company - were arrested soon afterwards.
A police spokesman said "the crime simulation caused a huge social alarm, perplexity and unrest feeling in the population".
The two women were held in prison cells until Monday when they were released without charge following a court appearance.