Heating bills concern 38% of UK population, survey suggests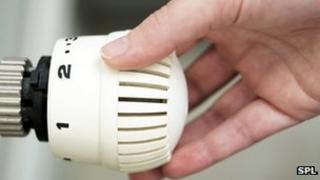 More than a third of people in the UK say they are concerned about paying for their heating bills this winter, a BBC Radio 5 live survey has suggested.
It found 25% of people had put up with "unacceptably cold" homes in the past year as they struggle to pay bills.
And 63% of the 1,035 adults surveyed said they had cut their energy use because of rising costs.
Ministers said they were taking action to help consumers but Labour said fuel poverty had risen under the coalition.
ComRes conducted the interviews by telephone between 30 August and 1 September 2013.
Almost three-quarters believe the UK's energy costs are unreasonable, and 69% said the firms should be nationalised.
While there was support for renewable energy resources in principle - 84% would welcome more solar panels in their area - the prospect of reducing energy prices was also important.
Some 67% of people said they would support more coal, oil and gas stations being built in the UK if it brought energy prices down.
Overall, 38% of those surveyed said they were concerned about how they will pay for their heating bills.
An even higher percentage of people in the North West, West Midlands, East Midlands, Yorkshire and Humberside, and Northern Ireland said it was a concern.
People in social grade DE were the most likely to say that they have cut their energy usage, are concerned about how they will pay their bills and have put up with cold temperatures.
'Scary bill'
Jean Clements, from Denton, Greater Manchester, said she has struggled to pay the "spiralling" energy bills since her mechanic husband took a pay cut.
The 39-year-old, who gave up work to look after their five-year-old son, said they got into debt with British Gas at Christmas and they have since installed payment meters.
"It took three months to install them, so we ended up about £700 in debt. At the moment, we are having to pay about £40 a week, £20 in each meter, and it's difficult to maintain.
"Pre-paid meters are about 7% dearer but the benefit is you are not going to get any scary quarterly bill or a bounced direct debit."
She is worried about the onset of winter, especially if it is a harsh one.
"The government needs to be able to work a bit more with Ofgem to regulate the prices and the profits the energy suppliers are making," she said.
"I don't expect handouts. We are a hard-working family but it would be nice if we could get the energy bills reduced."
Vulnerable households
Shadow energy secretary Caroline Flint told BBC Radio 5 live the government's energy strategy was a "disgrace".
She says the government's own figures on the fuel poverty gap - the difference between what households with high energy bills pay out for gas and electricity and the official poverty line - show it has increased by more than 12% in the last two years.
"This is yet more evidence that David Cameron's failure to get tough with the energy giants has pushed millions of vulnerable households even deeper into fuel poverty," she said.
"It is a disgrace that this government has cut help for people in fuel poverty at the same time as giving millionaires a tax cut."
Energy Secretary Ed Davey said Labour's failure to invest in energy had led to a "massive cost pressure" on bills.
"With our emphasis on competition, on helping vulnerable consumers directly and with our energy efficiency policies, the coalition is delivering in difficult times for people, when Labour failed to deliver in easy times," he said.
The Department of Energy and Climate Change added it was determined to tackle what it called the "scourge" of fuel poverty.
"Two million households received cuts to their bills last winter under the Warm Home Discount and the budget will continue to increase each year, up to £320m for 2015-16," a spokesman said.
The government was also pressing the energy firms to make sure low-income households were not stuck on high tariffs, he said.
The survey was commissioned to mark BBC Radio 5 live's Energy Day. Programmes will be transmitted from a temporary studio powered by renewables, including solar panels, wind turbines and exercise bikes connected to the electricity grid, and feature discussions about all aspects of the energy industry.
Listen to special reports on the UK's energy future as part of 5 live's Energy Day and follow the live blog