British man arrested in Spain over Gibraltar border photos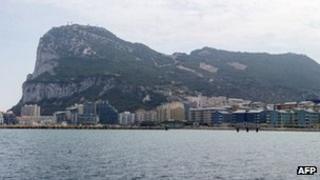 A British man has been arrested in Spain for allegedly putting photos of police and customs officers at the Gibraltar border online.
The Guardia Civil said the man had been detained after comments calling officers "torturers" were made online and protests at their homes called for.
The development comes amid tensions between the UK and Spain over the British territory of Gibraltar.
The Foreign Office said it was aware of the arrest of a British national.
The pictures were taken at the Spanish town of La Linea, on the border with Gibraltar, and were accompanied on a pro-Gibraltar website by an appeal to the citizens of La Linea to protest against them, saying "they will torture your family members this weekend with delays of up to eight hours."
The arrested man, who lives in Spain, has been identified only by the initials EE.
He was arrested in the Spanish capital by Guardia Civil officers from Algeciras, near Gibraltar.
'Computer located'
The Guardia Civil said the Briton was being held in custody while items found in a rucksack were investigated.
A spokesman said: "The investigation began when agents discovered a web page in which photographs of officers of the Guardia Civil, national police, and the customs agency were published.
"In this publication they were called 'torturers and killers' and citizens were encouraged to carry out demonstrations against the agents at their homes.
"In addition, these comments were reiterated via different social networks and digital media.
"Investigators located the IP address of the computer from where the detained person made the commentaries, situating it at a location in Madrid."
Britain and Spain have been involved in a row recently over the British Overseas Territory concerning border delays and fishing rights.
Sovereignty has long been an issue between the two countries but this week UK and Spanish foreign ministers said there was no prospect of negotiations any time soon.
Following the arrest, a Foreign and Commonwealth Office spokesman said: "We are providing consular assistance."