Dave Lee Travis at Old Bailey on indecent assault charges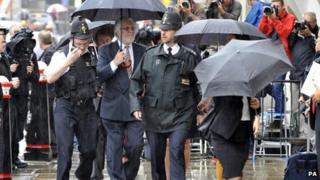 Former BBC Radio 1 DJ Dave Lee Travis has appeared at the Old Bailey to face 11 counts of indecent assault and one of sexual assault.
He is accused of carrying out the offences between 1977 and 2007.
The allegations relate to nine female complainants, aged between 15 and 29 at the time.
The 68-year-old, who will be tried under his real name - David Patrick Griffin - denies wrongdoing. He was released on bail until 21 October.
He is expected to enter a plea when he appears in court again next month. His solicitor has previously indicated he will deny the charges.
A provisional date for his trial was given as 4 March 2014.
During a 20-minute hearing - the first time Mr Travis had appeared before a judge at the crown court - prosecutors said the trial could last between four and five weeks.
He made an initial court appearance before Westminster magistrates on 23 August.
Mr Travis, of Mentmore, Buckinghamshire, was first arrested on suspicion of sexual offences by Operation Yewtree officers in November last year.
The Metropolitan Police investigation was launched in the wake of wake of sexual offence allegations against ex-TV presenter and Radio 1 DJ Jimmy Savile.
The operation has a number of strands. One is looking specifically at the actions of Savile, and the second at allegations of sexual offences against "Savile and others".
Mr Travis's arrest fell within a third strand, relating to allegations against suspects unconnected to the Savile investigation.