Newspaper review: Lib Dems on front pages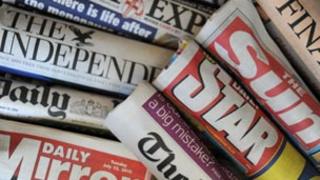 Senior Liberal Democrat politicians feature prominently on several of the front pages, as the party's annual conference gets under way.
The Daily Telegraph has an interview with Chief Secretary to the Treasury, Danny Alexander, in which he says workers in the private sector deserve pay rises to ensure they "share in the success" of the recovering economy.
But he says public sector workers will have to make do with several more years of frozen wages if the government is to control spending.
Business Secretary Vince Cable tells the Guardian he intends to press for an increase in the minimum wage amid concerns the recovery is failing to lift living standards for large parts of the workforce.
He wants the Low Pay Commission to restore the value of the minimum wage, which he calculates has fallen in real terms by up to 12% since the financial crash of 2008.
Mr Cable insists ministers and employers cannot keep saying to workers that they have to "take a wage cut to keep your job."
Twitter shares
Meanwhile, Home Office minister Jeremy Browne has said Romanians and Bulgarians planning to live in the UK are only complying with the same rules as British people who live in Spain, have holiday houses in France or who work in Germany.
According to the Times, expatriate and pensioner groups say it is absurd to liken Britons supporting themselves overseas to immigrants coming to the UK without the means to pay their way.
There is a great deal of interest in the announcement from Twitter that it is to offer shares to the public.
Who knew that hashtag puns, pictures of Starbucks cups with wrongly-spelt names, and terse outrage could be worth billions of dollars, the Independent asks?
And the City editor of the Sun cautions that shares in the social networking site may not be a good long-term investment.
Will people still be tweeting in 10 years' time, or is this a fad that will pass, he wonders.
Humiliated by remark
It was a tweet that got the editor of BBC Newsnight into trouble earlier this week.
Ian Katz apologised to shadow chief secretary to the Treasury, Rachel Reeves, after describing her appearance on the programme as "boring, snoring".
Now Ms Reeves has given an interview to the Guardian saying she felt humiliated by the remark.
"It's no way to talk about your guests," she says. "If he wants to make a decision that he doesn't want to discuss issues like low pay then that's fine, but he should just have some common decency."
Finally, if you are going to the cinema this weekend consider this thought by actress Emma Thompson. The film industry does not make "happy films" any more.
She tells the Daily Telegraph: "We always have to go on some journey or other, do you know what I mean?"
"In the olden days," she adds, "sometimes actors were required to entertain and make people happy for the sake of that. And I think it's something we've slightly lost."