Royal British Legion unveils new 'Never Forget' memorial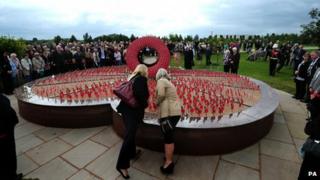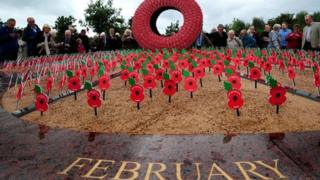 A new permanent memorial titled "Never Forget" has been unveiled at the National Memorial Arboretum.
It was officially opened by Amanda Binnie, whose husband Sean was 23 when he was ambushed and killed in Helmand province, Afghanistan, in May 2009.
The memorial features a giant wreath around which poppies, inscribed with individual names and dates, can be planted as a permanent tribute.
The Royal British Legion (RBL) held the service at the site in Staffordshire.
"Never Forget" is the shape of a poppy whose petals are flower beds for thousands of small wooden poppies to be planted, and is surrounded by a paved walkway.
Sarah Montgomerie, from the Royal British Legion, said everyday heroes as well as those killed in conflict would be honoured.
The memorial will be opened to the public following the formal dedication ceremony.
The National Memorial Arboretum is open year round except Christmas Day and forms part of the Royal British Legion's family of charities.
Members of the public may visit the Never Forget website to create personal tributes for the memorial.
National commemoration
The RBL has said it will launch a national poppy-planting project to mark 100 years since the outbreak of World War I.
The 2014 Real Poppy Project will go ahead despite the original organisers failing to secure a Heritage Lottery Fund (HLF) grant for their local project.
The Greenhithe and Swanscombe branch of the RBL applied for a £92,900 grant to provide poppy seeds to plant across the Kent countryside but the bid was turned down, the HLF said, owing to the high demand for lottery funding.
Now the RBL will call on people and local authorities to buy Flanders poppy seeds from retailer B&Q from October and plant them on their own land.
Money raised will go towards the £1.6m the RBL spends on care and support for the armed forces community.
RBL director of fundraising Charles Byrne said: "The idea to distribute poppy seeds to commemorate the centenary of WWI originated in the Legion's Greenhithe and Swanscombe branch, who are working with us to establish this campaign on a national level.
"We want to see members of the public making this campaign their own in their local communities, working in collaboration with local government, schools and community groups, and we will be taking discussions forward with central government to ingrain this campaign in the centenary commemorations."
Graham Mentor-Morris and Phil Berry, of Greenhithe and Swanscombe RBL, said: "We are over the moon our campaign is now being developed on a national level, with support from a national retailer.
"Not only will the centenary poppy campaign commemorate all those who gave so much during WWI, but also raise vital funds for the Legion."