Plastic bag backlash gains momentum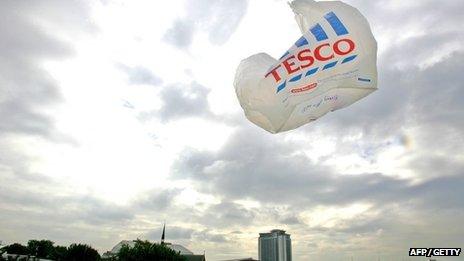 Once heralded as a cheap, convenient way to carry groceries, the humble plastic bag has earned a reputation among some as a scourge of modern society.
First invented as a sandwich bag in 1957, by the 1970s, plastic carriers had displaced paper bags as the method of choice for transporting shopping.
But over the last decade, a global backlash against thin, disposable plastic bags has gained momentum.
In 2002, Bangladesh became the first country in the world to ban thinner plastic bags after they were found to have choked the drainage system during devastating floods.
Other countries including South Africa, Rwanda, China, Australia and Italy followed suit.
This weekend Deputy Prime Minister Nick Clegg announced plans to introduce a 5p charge for plastic bags in England, in a bid to discourage their use.
The charge, which will only apply to supermarkets and larger stores, will begin after the 2015 election, with plans for the proceeds to go to charities.
The move will bring England into line with the rest of the UK - charges are already in place in Wales and Northern Ireland last year, with Scotland set to follow suit next year.
The beginning of the end of the UK's love affair with plastic bags can be traced to the picturesque town of Modbury in Devon.
Film-maker and local resident Rebecca Hosking launched an anti-plastic bag campaign after she was brought to tears filming a turtle with a plastic bag in its mouth and albatrosses feeding plastic to their chicks off Hawaii for the BBC2 programme Natural World.
She persuaded all 43 shopkeepers in the town to replace their plastic bags with reusable ones, making Modbury the first town in Britain to become plastic bag-free in May 2007.
A spokeswoman from the town's Lazy Cow gift shop and cafe said being plastic bag-free was "a way of life down here".
The government should charge more per bag, she said.
"If it was 50p a bag, it would make people think twice," she said. "Five pence is nothing."
Kay Freeman, the owner of Wild Goose Antiques in the town, added: "I think people thought that could have been a publicity stunt but it wasn't.
"When we first started to charge for bags, it lost us money because plastic bags are so much cheaper to buy in than paper bags.
"It hits the smaller shops more but we seem more prepared to do it."
In 2008, proposals to introduce a ban on plastic shopping bags in London were withdrawn by council leaders after ministers pledged a minimum charge on plastic bags.
Marks and Spencer (M&S) introduced a 5p charge for standard food plastic carrier bags in May 2008, although they still give away smaller ones.
A company spokesman said charging had resulted in 80% fewer bags being handed out.
He said M&S foodhalls handed out 464 million carrier bags in 2007. By 2012, that figure had dropped to 116 million.
"It's a simple way our customers can get involved in our eco and ethical programme," he said.
He said there were currently no plans to increase the 5p charge, which has so far raised £6m for environmental charities Groundwork, the WWF and and the Marine Conservation Society.
But a spokeswoman from Wrap, a government-funded organisation which helps firms and individuals reduce waste, said a charge should apply to all carrier bags, regardless of what they are made from. Indeed, the initiatives in Wales, Northern Ireland, and Scotland apply to both plastic and paper bags.
Meanwhile, Matthew Sinclair, chief executive of the TaxPayers' Alliance, said the tax was "like using a sledgehammer to crack a nut".
"As ever with silly taxes and regulations like this, it will hurt small businesses and families on lower incomes the hardest," he said.
"A tax on plastic bags is a ridiculous idea, particularly at a time when politicians are trying to find ways to tackle the rising cost of living."
Related Internet Links
The BBC is not responsible for the content of external sites.