Syria: UN report consistent with UK's stance - Hague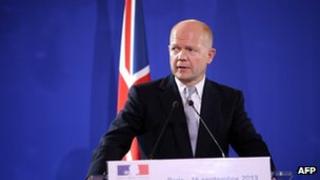 A "damning" report by UN weapons inspectors is fully consistent with the UK's belief that the Syrian regime was responsible for a chemical weapons attack, the foreign secretary has said.
William Hague was speaking after the UN confirmed that chemical weapons had been used in Syria.
Mr Hague had earlier said the world must hold Syria to account if it fails to destroy its chemical weapons.
He said the UK's priority was to secure a UN resolution to enforce the deal.
Although the UN weapons inspectors were not mandated to attribute blame for the use of chemical weapons - which are reported to have killed hundreds of people on the outskirts of the capital Damascus on 21 August - Mr Hague said their findings matched the UK's claims that government forces were responsible.
"This report, which we are analysing in detail, is clearly very damning," Mr Hague said.
"It confirms that there was indeed a large-scale chemical weapons attack on the areas east of Damascus in the early hours of August 21.
"It confirms that this was an attack against civilians, against children and a large number of people were killed and it is fully consistent with everything we have always argued about this attack - that sarin was used, that it was on a large scale."
He added: "We have always believed that this was the work, the responsibility of the Assad regime and everything we can see in this report is fully consistent with that."
'War crime'
Syrian President Bashar al-Assad has denied responsibility and blamed rebels.
Under a US-Russian agreement, Syria must hand over a full list of its chemical arms within a week and destroy them by mid-2014.
The framework deal was announced on Saturday after three days of talks in Geneva between US Secretary of State John Kerry and Russian Foreign Minister Sergei Lavrov.
The US and France had threatened military action over the attack.
UN Secretary-General Ban Ki-moon said on Monday the use of chemical weapons represented "a war crime".
He added: "Survivors reported that following an attack with shelling, they quickly experienced a range of symptoms, including shortness of breath, disorientation, eye irritation, blurred vision, nausea, vomiting and general weakness.
"Many eventually lost consciousness. First responders described seeing a large number of individuals lying on the ground, many of them dead or unconscious."
The UN investigators examined blood, hair, urine and rocket samples.
Mr Ban said 85% of the blood samples tested positive for sarin.
He said "the international community has a responsibility to hold the perpetrators accountable".
Earlier, Mr Hague said a UN resolution should enshrine the regime's responsibilities and Britain, the US and France would not accept any "cat and mouse games".
"A resolution should create a binding commitment for the regime to give up its chemical weapons within a specific time frame, to credibly, reliably, promptly place them under international control for destruction," he said.
"It is the Assad regime that has stockpiled these weapons and has used them repeatedly against the Syrian people.
"So the pressure is on them to comply with this agreement in full; the world must be prepared to hold them to account if they don't. And our three countries are certainly determined to do so."
He said the UK, US and France would use their "full weight" as permanent members of the UN Security Council to get the chemical weapons out of Syria and bring about a peaceful end to the civil war.