Somali man accused of terror order breach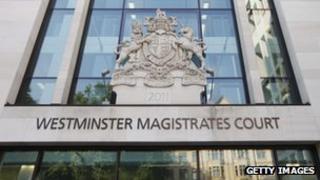 A Somalian-born man has appeared in court under terror prevention laws.
The man, who for legal reasons can only be identified as FF, is accused of breaching the terms of a terrorism prevention measures order (TPim).
TPims restrict the movements of people thought to pose a risk to the public, but who cannot be tried for reasons of national security and who cannot be deported.
FF is accused of making an unauthorised visit to a house in Birmingham.
Westminster Magistrates' Court heard that he spent almost an hour at the house on September 15.
Prosecutor Michael Topping said the defendant had to seek Home Office permission before arranging to meet with people other than through accidental encounters.
No plea
FF told the court he was looking for a new house for his family in Birmingham and visited a particular address he was interested in, on the off-chance somebody was home to show him around.
FF entered no plea to the charges and was remanded in custody to appear at the Old Bailey next month.
TPims were brought in last year to replace the control orders which were introduced by the last Labour government.
Those subject to TPims face restrictions, such as where they stay, who they contact and where they travel, but these differ from control orders in that suspects cannot be forced to relocate to another part of the UK.
Nine people - eight of whom are British - are currently subject to TPims, according to the Home Office.
The names of those subject to TPims are not usually made public.