Newspaper review: Focus on Kenyan mall attack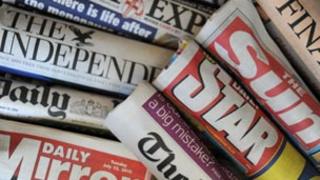 "Massacre in the mall" is the main headline in the Independent, which speaks of horror and heroism after the terrorist attack in Kenya.
A picture on the Daily Mirror's front page shows a terrified mother lying on the floor of the shopping centre, trying to shield her child from bullets.
A photograph in the Guardian shows a woman making a desperate escape through an air vent.
The Sun reports that gunmen shot at children in a toy shop, and murdered people as they sat at café tables.
The Daily Mail says the terrorists gave a live commentary on Twitter as they murdered dozens of innocent people - and gloated as the death toll rose.
And the Daily Telegraph reports security sources cannot rule out the possibility that a Briton is among the heavily-armed terrorists.
The paper says British counter-terrorism officials are in Nairobi, along with specialists from the SAS.
Tough terms
As the Labour Party conference continues, there is no shortage of advice for the party leader, Ed Miliband.
The Times says he sometimes talks in tough terms, but whenever he offers sight of a policy, it is always to reverse a coalition cut.
Lord Mandelson - writing in the Financial Times - says Mr Miliband's brand and message need to be recast for the age of social media and he needs to show boldness and political artistry in grabbing his share of attention.
Angela Merkel's victory in the German election is widely reported.
"This is the age of Merkel", declares the Guardian, which says her triumph in winning a third term - with an improbably high margin - sets her apart in Europe.
The Telegraph says Mrs Merkel - often cited as the world's most powerful woman - appears to have been rewarded for steering Germany through the Eurozone crisis relatively unscathed.
The Daily Express reports that a soldier who claims Princess Diana was murdered by the SAS has fled the UK - before he could be questioned by police.
The paper says the former sergeant vanished days before he was due to be interviewed.