Two in court on Syria terrorism camp charge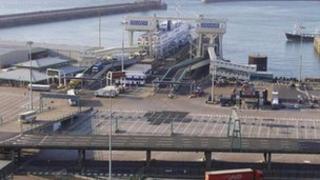 Two brothers have appeared in court charged with conspiring to attend a terrorism training camp in Syria.
Mohommod Hassan Nawaz, 29, and Hamza Nawaz, 22, both of Stratford, east London, were held when ammunition was found in their car at Dover, last week.
As well as ammunition and terror camp charges, Mohommod Nawaz is also accused of possessing terrorist information.
They were remanded in custody at Westminster Magistrates' Court and committed to stand trial.
The brothers' vehicle was searched at the port of Dover in the early hours of last Monday, after the pair arrived from Calais in France.
It is alleged that police found five rounds of rifle ammunition, a balaclava, heavy-duty clothing, six mobile phones, and a phone's Sim card inside a copy of the Koran.
The court heard an allegation that earlier this year the men had driven from their home to Calais, then flew from Lyon to Turkey. It is then claimed they made their way into Syria.
Mohommod Nawaz is accused of being in possession of a laptop computer containing "information of a kind likely to be useful to a person committing or preparing an act of terrorism".
The material is said to include four copies of the al-Qaeda online magazine Inspire.
The brothers spoke only to confirm their names, dates of birth and address during the hearing.
They will next appear at the Old Bailey in London on 21 October.
A 37-year-old man and a 36-year-old woman who were arrested on suspicion of terror offences in Essex on Wednesday have been released without charge.