Andrea Waldeck appears in Indonesian court on drug charges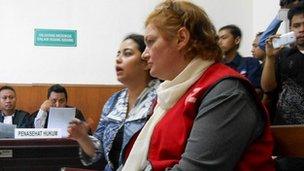 A British woman has appeared in an Indonesian court accused of trafficking 1.4kg (3lb) of crystal methamphetamine.
Former Gloucestershire Police community support officer Andrea Waldeck, 43, was arrested in her hotel room in Surabaya, Indonesia, in April.
She had allegedly telephoned a friend in China to collect the drugs, which police found in black bags, hidden in her underwear.
The Foreign Office says it is providing consular assistance.
If found guilty, the maximum sentence is death by firing squad.
Gloucestershire Police confirmed Miss Waldeck worked for them as a PCSO until February 2012.
In a Facebook profile which appears to have been set up by Miss Waldeck in July, she wrote a message to her family and friends, saying that she loved and missed them. She also said: "Your support means the world to me."
In a later message she says her brother will be coming out to visit her and appeals for friends to donate books and clothes to her.
The case comes as another British woman, Lindsay Sandiford, continues to fight against her death sentence for smuggling 4.8kg (10.6lb) of cocaine into the Indonesian island of Bali.
The 57-year-old, of Cheltenham, Gloucestershire, lost her latest appeal in August and is now pursuing other legal avenues.
The BBC's Karishma Vaswani says Indonesia has some of the toughest anti-drug laws in the world but the death penalty is not used frequently.
"This year though the government has indicated that it plans to restart the execution of drug traffickers and at least one man has already been put to death," she said.
Human rights groups say more than 140 people are on death row in Indonesia, and it is believed that a third of them are foreigners.