Pilots 'asleep in cockpit' as passenger plane on auto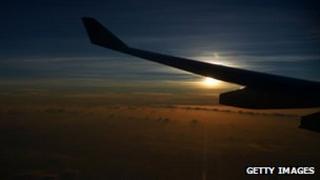 Two pilots were suffering from "severe fatigue" when they fell asleep mid-flight on a UK-operated passenger plane, it has been revealed.
Both nodded off at the same time, according to a Freedom of Information request by Data News Ltd.
One said they had had only five hours' sleep over the previous two nights.
The Civil Aviation Authority did not identify where the incident occurred, but said it was likely hundreds of passengers were on board.
The Airbus A330 was flying at 35,000ft (10,700m) on 13 August when the pilots were taking it in turns to monitor its autopilot, the CAA said.
'No surprise'
One of the men woke up from his scheduled 20-minute rest break to find the second pilot asleep.
A CAA spokesman said the pilot did not know how long his colleague had been asleep but that such incidents were rare - a claim disputed by pilots.
The CAA's incident report supplied to Data News said the flight crew were "suffering from symptoms of severe fatigue".
It added there was "insufficient opportunity to sleep" due to longer shifts.
The British Airline Pilots Association (Balpa) said it came as "no surprise" as the problem often goes unreported.
"British pilots want to make every flight a safe flight and tiredness is the biggest challenge they face," said general secretary Jim McAuslan.
"The CAA has been far too complacent about the levels of tiredness among British pilots and failing to acknowledge the scale of the underreported problem."
'Isolated incident'
He said the European Parliament was due to vote on Monday on new regulations that would "cut UK safety standards".
Balpa said the changes included:
allowing pilots to land an aircraft after being awake for 22 hours
pilots flying on the longest-haul flights with only two crew rather than the three at present
pilots being forced to work up to seven early starts in a row rather than the current three
The association circulated a survey of 500 commercial pilots suggesting half had fallen asleep on the flight deck and a third had woken up to find the other pilot asleep.
A spokesman for the CAA said: "This was a serious incident but an isolated one. I think lessons will be learnt from this. We are circulating this report within the industry.
"We don't know why the pilots had had so little sleep before this flight. They were taking it in turn to have rest periods, with the one always checking the autopilot and it looks as if both fell asleep at the same time."