'No action' over Lord Rennard sexual touching claims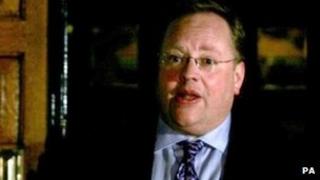 There is "insufficient evidence" to prosecute former Liberal Democrat chief executive Lord Rennard over allegations of sexual touching, the Metropolitan Police have said.
The peer had been accused by female activists of inappropriate behaviour between 2003 and 2007.
Lord Rennard, who denied the allegations, said he was "not surprised" he had not been charged.
But the Lib Dems are to resume their own disciplinary investigation.
A number of women accused the peer of abusing his position by inappropriately touching and propositioning them.
In February, Scotland Yard began looking into whether any criminal activity had taken place and Lord Rennard was questioned in June.
'Harrowing'
He temporarily stood aside from the Lib Dems' group in the House of Lords to avoid "embarrassment" to the party.
Following Scotland Yard's announcement that it would not bring a prosecution, he said: "I am not surprised by the police decision that after a full investigation into the complaints made against me I will face no charges.
"The last eight months have been harrowing and deeply unpleasant for me, my wife Ann, my family and friends.
"I am enormously thankful for the unfailing support I have received from people across the political spectrum but especially those within the Liberal Democrats who have stood by me throughout.
"My life's work has been to support good people and good causes. I hope now to be able to continue doing that."
A Lib Dem spokesman said: "The decision by the police not to prosecute Lord Rennard with a criminal offence means that the party's disciplinary process, led by Alistair Webster QC, can now resume.
"We consider the allegations made against Lord Rennard, which he strenuously denies, to be extremely serious and we can now continue with our internal inquiry into these allegations."
Lord Rennard was appointed director of campaigns and elections for the Lib Dems in 1989 and became chief executive in 2003. He was credited with masterminding several by-election victories.
He resigned as chief executive in 2009 due to health issues.
In June, another Lib Dem internal inquiry by City businesswoman Helena Morrissey, into procedures, called for a "paradigm shift" in the Liberal Democrats' attitudes towards women.
The party's response to the allegations against Lord Rennard had been "haphazard but not malicious, and there was no evidence of a deliberate cover-up".