Greenpeace protest: Two Britons held over Russia stunt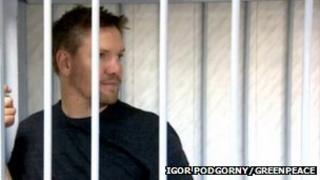 Two British activists have been remanded in a Russian prison for two months following a protest at an Arctic oil drilling platform, Greenpeace says.
Anthony Perrett and Frank Hewetson join four others from the UK handed the same terms by Russian authorities.
They are among a group of 30 who have been held since coastguards intercepted the Arctic Sunrise on 19 September.
Greenpeace says the detention is "unacceptable" as the activists were staging a legal, peaceful protest.
Coastguards arrested them on suspicion of piracy, which carries a sentence of up to 15 years, after two scaled an offshore drilling platform.
The boat and protesters were taken from the Arctic's Pechora sea, near to oil company Gazprom's platform, and transferred to the port of Murmansk.
President Vladimir Putin has previously said that the activists, hailing from 18 countries, were clearly "not pirates" but had broken international law.
'Wildly disproportionate'
Mr Hewetson, a logistics co-ordinator, is a long-term Greenpeace activist and his partner Nina Gold says his children are worried for his welfare.
She said: "Frank is an environmental activist trying, on behalf of us all, to defend the Arctic from exploitation by the oil companies through peaceful, non-violent protest.
"Two months behind bars without charge is wildly disproportionate and unjust.
"I would ask the Russian authorities to reconsider this unwarranted and harsh decision," she added.
John Sauven, executive director of Greenpeace UK, also criticised the decision, describing it as "unacceptable".
He said: "The total overreaction by the Russian authorities to a peaceful, non-violent protest in the Arctic Ocean has continued today.
"This is an act of intimidation and bullying by the Russian authorities. We will continue to support those who have been imprisoned, and their families at this time."