Newspaper review: Split in Osborne speech coverage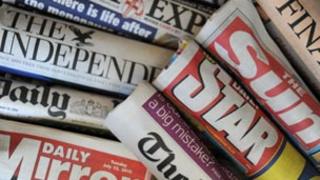 There is a clear divide in the way Tuesday's newspapers choose to report George Osborne's Conservative conference speech.
The Guardian's main headline sums up the chancellor's message as "seven more years of pain".
The Financial Times agrees that the goal of building a budget surplus by 2020 would entail more austerity, and a continued squeeze on welfare and other public spending.
Meanwhile, the Daily Mirror's front page talks about children going to school hungry as the "callous" Tories announce more savage cuts.
By contrast, the Daily Telegraph decides to focus on the chancellor's stated aim of freezing fuel duty until 2015, which it says is a response to Labour's pledge to limit energy prices.
And according to the Sun's front page, Mr Osborne's "big freeze" has given motorists something to smile about.
It comments that the pledge was the "one crowd-pleaser" in a serious speech of stark truths and goes on to warn Mr Osborne that he has 18 months to make people feel better off or Labour's "easy lure" may be hard for many to resist.
Climate questions
The main story for the Daily Mail and the Daily Express is the expected announcement by David Cameron during the conference that some GPs will open their surgeries until 20:00, seven days a week.
The Mail explains that the move is a response to growing concern about the quality of out-of hours care, which it blames on changes to GPs' contracts agreed by the last Labour government.
The Express talks about widespread frustration among millions of patients over inconvenient opening hours.
The Independent's front page highlights comments by Environment Secretary Owen Paterson at a conference fringe event where, it reports, he played down the dangers of global warming.
He talked about global warming as a "quite modest increase" in temperatures to which humanity could adapt, according to the paper.
'Self-seeking twerps'
Away from the Tory conference, the Sun reports that passengers on a BA flight from New York saw their pilot leave the cockpit to be sick as they approached Heathrow.
The co-pilot was left to land the 747 on his own after a possible food poisoning case.
The Times has a warning from the former head of MI5, Dame Stella Rimington, that her old colleagues are at risk of playing into the hands of what she calls "self-seeking twerps" who expose secrets, such as Julian Assange and Edward Snowden.
Dame Stella told the Henley Literary Festival that the secret services needed a new way to convince the public that gathering private data was necessary and properly supervised.
A similar argument is being made by a former head of America's National Security Agency, reports the Guardian. General Michael Hayden says Western spies need to "show a lot more leg" to win public support for their work.
Grumpy old women
Two hundred writers and academics, including Poet Laureate Carol Ann Duffy, have signed a letter to the Times criticising school reforms in England introduced by Education Secretary Michael Gove.
The letter says that incessant testing and school performance targets risk damaging the quality of childhood.
From Albert Steptoe to Victor Meldrew, the "grumpy old man" is a longstanding comedy staple but, according to a survey reported by the Telegraph, it is actually women who get grumpier with age.
Almost a third of the retired men chose "the present" as the happiest time of their lives, compared with only a quarter of the retired women.
Finally, there is academic recognition for the much derided habit of strumming an imaginary guitar.
The Times says research led by Cambridge University has concluded that playing "air guitar" or other non-existent instruments is a useful technique for musicians to unlock inspiration.