Peru drugs case: UK women 'may face six-month probe'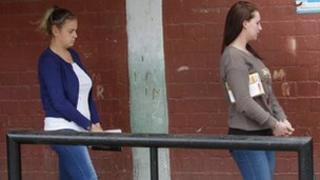 Prosecutors say two UK women caught trying to smuggle cocaine out of Peru could face a six-month investigation if their guilty pleas are not accepted.
Michaella McCollum, of Dungannon, County Tyrone, and Melissa Reid, of Lenzie, near Glasgow, last week admitted smuggling drugs.
But prosecutor Juan Mendoza told the AFP news agency the women's confessions had not yet satisfied prosecutors.
He made the comments after the women appeared before a judge on Tuesday.
It was the second time the women, both 20, have appeared before a judge at a closed hearing in Lima.
Last week the pair, who face up to 15 years in prison, hoped their admission of guilt would bring their sentences down to six years and eight months.
But prosecutors said they needed to provide more information to get reduced sentences.
Speaking to AFP, Mr Mendoza would not discuss whether the women had explained to them how they got the cocaine or who it was from.
But he suggested the women's confessions had not yet satisfied prosecutors.
McCollum and Reid were caught with the drugs - said to be worth £1.5m - inside food packets at Lima airport in August, and said they were forced into carrying them.
The women had reportedly told the Peruvian authorities they were working in Ibiza and did not meet before they were both kidnapped at gunpoint and forced to travel to Majorca and then Peru.
Meanwhile, an Irish priest who visited the pair in prison on Saturday said the women were in "great form".
Father Maurice Foley also suggested the women might get moved after sentencing to a new prison in the north of Lima, which has an area dedicated for foreigners.